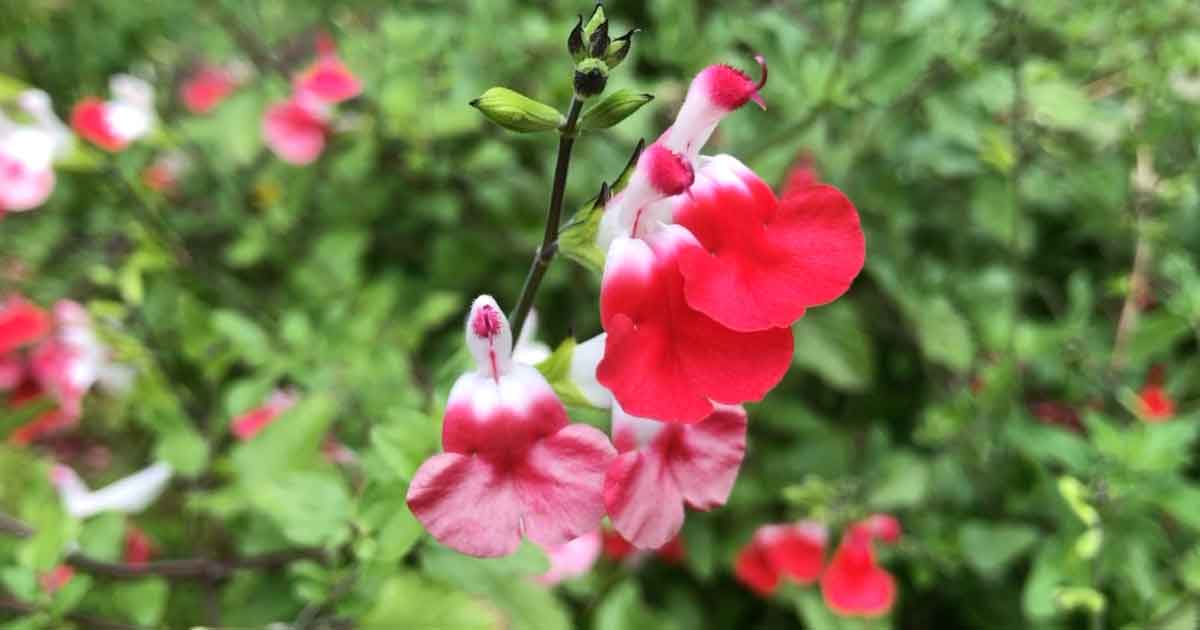 Salvia are best pruned each year to maintain beautiful flowers as well as keeping the plants looking great.
Knowing how to prune the different types will keep them flowering, help attract birds, bees and other pollinators to the garden and it is easy once you know how and when to prune.
The Naturally Deciduous Types
Some Salvias are naturally deciduous, they die back in winter and these are pruned right back to the ground.
These include Salvia elegans, S. guaranitica, S.azurea, S engelmanii S. leucantha, S. waverley, S. ulignosa & S. patens
Once the foliage stats to die back its time to prune.
Use share secateures or even hedge shears.
Prune them right back to the ground.
In colder climates, (Zones 7 and below) do this in spring.
In warmer climates prune them in Fall or Winter.
The herbaceous types with woody stem types
These also need pruning, and these include Salvia greggii types, S. chamaedryoides, S. coccinea, S. involucrata, and S. microphylla and the culinary or herb sage, Salvia officinalis.
We prune these back after the first flush of flowers, just down by 1/3 or so making sure we leave good leafy growth.
At the end of the season prune them back harder to around 1/3. Again, in colder climates, leave this until spring.
The Rosette forming types
These include Salvia nemorosa, S. x superba, S. lyrata, S. pratensis & S. penstemonoides. These are evergreen having a little foliage around the base year round.
These are pruned right down to the rosette growth at just above ground level.
The best time is in spring after the danger of frosts has passed.
Extra Salvia Pruning Tips
Always use clean sharp secateurs and pruning saws to make clean cuts and to help prevent disease.
At any time remove dead or diseased wood.
A light prune after the first flush of flowers for all types will improve the second flush of flowers as well as keep the plant looking neat.
Salvias varieties will be deciduous, evergreen or semi deciduous depending on climate zone.