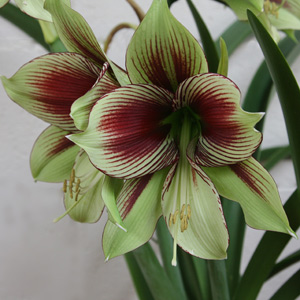 What we commonly call Amaryliss may be that or they may be Hippeastrum, one of the most widely hybridised of all bulbs.
They grow well outdoors in USDA Zones 8 – 11 and can also be grown in cooler climates as ling as they are overwintered indoors.
Hippeastrum are a group of plants from South America they are only a part of the family Amaryllidaceae. Amaryliss are actually a group of bulbs from South Africa. Amaryliss is often used to cover all of the cultivars often sold as winter flowering plants for indoors in the USA.
Bulbs appear for sale during winter and can usually be potted up straight away as they have already had a period of dormancy. However Bulbs from last season require a little special care to ensure they flower again.
Some wonderful flowers can be had from the many varieties offered for sale including varieties such as the wonderful red and white Hippeastrum pictured right.
Hippeastrum care is really not difficult. We show you how to How to Repot, Fertilize and make Hippeastrum Bulbs Flower.
Basic Hippeastrum Care
The bulbs require a period of stress to flower well, cool dry winter conditions do the trick. In Autumn place the plants where they can be allowed to dry out for 2-3 months. Bulb growers do this by storing bulbs bare rooted for a period before selling them.
Potting and Repotting
Hippeastrum will lose their foliage almost totally during this cool dry dormancy. It's a good idea to repot in late winter to early spring before new growth begins.
Once the bulb begins to shoot water sparingly and keep the pot in a warm position, many people like to grow indoors and this is fine, however if you want the perfect straight stem try turning the pot 45degrees every 2-3 days to prevent the plant 'reaching for light'.
Fertilizing
Fertilizing is probably not necessary if you repot each year using a good quality potting mix complete with a slow release fertiliser. Try to find a potting mix without 'water saving' crystals or similar so that pots can dry out.
Remember that Hippeastums need to planted with the neck and shoulders of the bulb 'above the soil level' so 2/3 below 1/3 above.