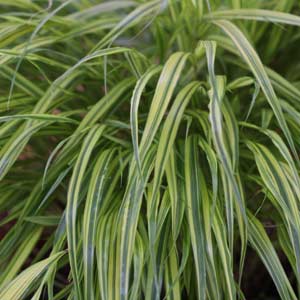 With Japanese style gardens being popular amongst garden designers it is natural that an interest in ornamental Japanese grass species and varieties is growing in many states.
While some species are fairly well know and common in many nurseries, such as Miscanthus and Ophiopogan, it is the newer grasses now found for sale that are creating a lot of interest.
One of the more useful characteristics of grasses such as Ophiopogan and Japanese Temple Grass is the ability to grow well in shade to part shade.
Among these is Forest Grass or Temple Grass – Hakonechloa macra, (see picture right) a lovely weeping non – invasive perennial grass excellent in the rock garden or in a container.
However a few other grasses are worth attention well, some well suited to the Japanese style garden.
Japanese Grass varieties for the garden
Japanese Silver Grass (Miscanthus sinensis)
Perhaps the most common Japanese Grass, strong growing, clumping and with feathery flower plumes. Does well in full sun.
Japanese Forest Grass or Japanese Temple Grass Hakonechloa macra
This one is perhaps our favourite Japanese grasses. Sometimes known as Hakone Grass, this grass is a clumping species that does well in shaded areas as well as part sun. Hakonechloa macra 'Aureola' is a variegated cultivar, while Hakonechloa macra Beni Kaz is a red colored cultivar.
Japanese Blood grass or Japanese Red Grass (Imperata cylindrica)
Is a tufted perennial with creeping rhizomes, it tends to be invasive and should probably be avoided. Declared a weed in many states.
Ophiopogan japonicus
One of the most widely used in Japanese style gardens, and the dwarf variety is a grass that will only reach around 3 inches in height. Look for Ophiopogan japonicus 'Gyoku Ryu'.
Ophiopogan jaburan 'Vittatus'
This is a taller grass growing to around 24 – 30 inches in height, well suited to zones 7 – 10.
Landscaping uses for Japanese Grasses
Start with a simple planting, a clump of Hakonechloa macra as a back drop to a small japanese garden ornament is a start. Or try some low growing Ophiopogan japonicus planted around a lantern or one of the bamboo deer scarers.
Of course the tall feathery spires of Miscanthus can be a feature, however for something easily attainable and easy to maintain, a simple container overflowing with Japanese Forest Grass is difficult to beat.
For mass planting Ophiopogan varieties are excellent choices.
Japanese Grasses including Blood Grass or Red Grass, Japanese Temple Grass or Forest Grass and Silver Grass are quickly becoming increasingly popular in the USA.
Japanese Ornamental Grasses are especially popular in Oregon, New York, Washington, North Carolina, Nebraska, Tennessee, Indiana, Maryland, Kansas, Pennsylvania and Iowa.