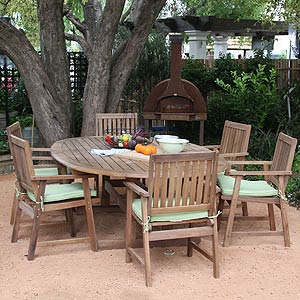 It certainly does not need to be summer to enjoy cooking outdoors, especially in the warmer states. With pergolas, enclosed patios and even tropical style huts all you need is the with equipment and the right place to put it to enjoy the relaxing and friendly atmosphere of eating outdoors.
Of course if you have a a little cover you can extend the outdoor eating season from spring through to fall. Add some outdoor heating, perhaps a fire pit, and some lighting and you are on your way.
Outdoor kitchens do not have to cost a lot, you will need at least grill, and preferably a bench or counter for food preparation. The grill may cost as little as $500, the counter even less, it is putting them together into a space that has the functions of a kitchen that costs more.
Outdoor kitchen kits start at around $2500 and move upwards to $10,000 and even double that. However you will have a completely functional kitchen at the top end of the price range.
What you spend will depend on your budget and how much you will use the area. The theory that outdoor kitchens can increase the price of you home is an interesting one. Only if you do it well, and only if the buyer values outdoor eating.
What to Buy.
Outdoor Kitchens can greatly enhance any outdoor living or garden area. With full outdoor kitchens available for the patio, BBQ, grill or pizza oven outdoor cooking has never been easier.
A quick review of appliances available will make it clear that it would be fairly easy to spend a lot of money on things that you may never really use.
If you have the money, then that may be fine, if you are looking for an economical solution, start by thinking about what you like to eat. In other words review your eating habits, needs and budget.
The process of deciding what you will actually use can save you a lot of money. You could go for a simple outdoor kitchen with a versatile pizza oven, you can also roast and bake in it.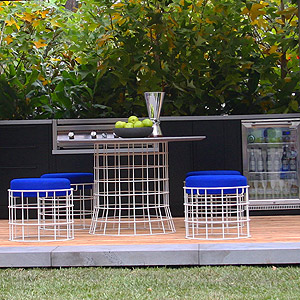 So instead of ordering 'One with the Lot' consider our review of what you may and may not need in an outdoor kitchen.
We guide you through some of the latest ideas in outdoor kitchen appliances including built in grills, BBQ grill carts, Outdoor Pizza Ovens and more.
Outdoor kitchen ideas are popular in the following states : Louisiana, Texas, Florida, Mississippi, Oklahoma, Nevada, Arizona, Alabama, South Carolina and Nebraska
Outdoor Kitchen Designs
The best outdoor kitchens should be designed to make entertaining as well as day to day living easier.
A simple grill can make the most of your patio or outdoor living area. So our versatile trolley mounted BBQ and oven (pictured) is perhaps the cheapest solution for many.
A full outdoor kitchen allows you to remain outside with your guests or family, stops the house from heating up on warm evenings and removes cooking odours from indoor living areas.
Aspects to consider include :
Appliances
Designing an Outdoor Kitchen
Permanent or Portable
Workspace
Ventilation
Protection
Outdoor kitchens can include the following cooking appliances.
Charcoal grills
Gas grills
Wok burners
Pizza ovens
Side burners
Rotisserie
Smokers
Outdoor Kitchen Ideas
Designing an Outdoor Kitchen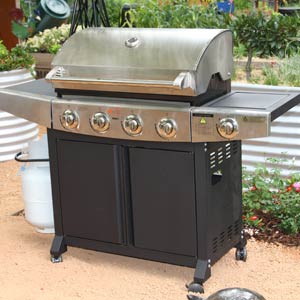 Coming up with the design for an kitchen is just like any other design project, deciding how much space you have, what you wish to include and then adjusting your ideas to fit your budget.
Outdoor kitchen design ideas.
No one design suits all outdoor kitchens, and designs may be simple and include a grill on a cart or complex and include built in appliances with sinks and refrigeration. Consider the following:
Permanent or Portable
A kitchen that is movable or on a trolley allows cooking to be moved to different outdoor areas as required. A movable kitchen also allows you to 'take the kitchen with you' if you shift houses. A grill with wheels can be purchased online or at many local shopping malls.
A permanent outdoor kitchen can add value to your home, it can act as a design feature and if you do a lot of entertaining can be designed specifically for your cooking needs.
Work space.
You will need some space to prepare and serve meals. with no preparation space you will be continuously returning indoors instead of enjoying your time with your guests
Ventilation.
Make sure that your outdoor kitchen is positioned where the cooking odours are easily dispersed.
Protection from rain and heat.
Perfect weather for outdoor eating conditions are not always present. A covered area will allow you to make the most of your outdoor kitchen in all weather conditions. Your cooking appliances also need to be protected from the elements to prevent damage.
Outdoor Cooking Essentials
Grill or other cooking appliance
Bench space to prepare food and serve it
What you may need depending on the cooking appliance is power
Also consider lighting.
Outdoor Cooking Accessories
Other Info
You may think that outdoor kitchens are most popular in states such as California and Florida, however it is actually areas including Louisiana, South Carolina, Utah, Oklahoma, North Carolina, Texas and Tennessee where they are more often seen.
You can always look for an all round outdoor cooking appliance, check out the Yoder Smokers and Grills, they will do a grill, a roast a pizza as well as smoked meat.