It does not need to be summer to enjoy an evening or even a lunch on the patio, the concept of outdoor living is not new, its just that we have modernised it.
A Japanese style patio table, may or may not suit your lifestyle. However with so many different ideas you will be able to find a design that gives you comfort and functionality as well as looks good on your patio.
Now might be the right time to look at updating your patio furniture , you can make your outdoor area more appealing with the wide range of furniture now available.
You can look at what suits your lifestyle best. If you like eating outdoors, then you can add to the versatility of your outdoor kitchen by choosing the appropriate dining setting to make that el fresco dining experience more pleasurable.
If you simply like to sit and relax with a cool drink, then a lounge, or other comfortable outdoor seating could be the number one priority. Perhaps a few cushions or even a hammock, where can simply read and relax.
Patio Furniture is popular as it makes outdoor living comfortable and easy. As patio furniture is available for sale in a number of materials including timber and wrought iron, when choosing outdoor furniture or patio furniture a number of aspects need to be considered. Patio Furniture is particularly popular in the following states : Florida, Arizona, Colorado, Louisiana, Pennsylvania, Texas, New Jersey, Georgia, Maryland and Nevada.
Choosing Patio Furniture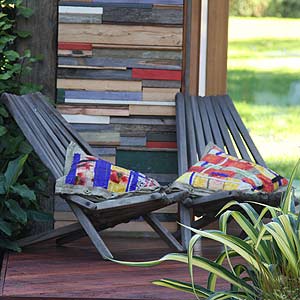 Although design comes high on the list, functionality and durability are really important when choosing the best patio furniture for you home. If the patio is an enclosed area, with good protection from the weather then your choice will be wider than if you are looking at an open exposed patio.
No one really wants to be putting patio furniture away every time it looks like rain, and no wants to see their outdoor cushions fade away in the sun. So investigate the durability of the materials you are looking at and choose appropriately.
Patio Furniture comes in a range of materials including:
Aluminium Patio Furniture
PVC Patio Furniture
Resin Patio Furniture
Glass topped Patio Furniture
Recycled Plastic Patio Furniture
Teak Patio Furniture
Wicker Patio Furniture
Wood Patio Furniture
Wrought Iron Patio Furniture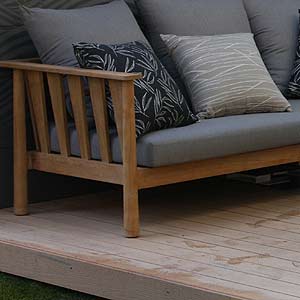 Modern Timber Patio Furniture Sleek and modern timber patio furniture with comfortable cushions makes a great outdoor area for relaxing with friends, or reading a book. And a great area to retreat to after outdoor dining.
Each material used for Patio Furniture has a distinctive look and each has its own qualities and maintenance requirements.
Aluminium Patio Furniture is very durable and requires little maintenance, it is also light weight.
Teak is a long lasting timber used widely for Outdoor Patio Furniture, if oiled regularly it will retain a golden colour, if not it will age to a silver grey.
Wrought Iron patio furniture is an old favourite, fantastic patterns and a nice classic and heavy feel to it.
Other Info
You may think that outdoor kitchens are most popular in states such as California and Florida, however it is actually areas including Louisiana, South Carolina, Utah, Oklahoma, North Carolina, Texas and Tennessee where they are more often seen.
You can always look for an all round outdoor cooking appliance, check out the Yoder Smokers and Grills, they will do a grill, a roast a pizza as well as smoked meat.