Thinking of getting a new POS?
As the Principal of a POS system supplier, I am constantly in contact with customers who are considering the purchase of a new POS system. This puts me in a good position to know the issues customers face when selecting the best system for their businesses.
From the outset, I was very impressed with the garden centres run by Kings Plant Barn Ltd in Auckland, New Zealand. Apart from being an efficient operation, they also boasted a legendary 18 stock turns per year.
They too liked what they saw and we ended up with Kings Plant Barn Ltd as our first customer in New Zealand. They purchased the Botanica POS – the garden centre version of Univex iPoS, our "intelligent Point of Sale" and have put it to good use for the past three years.
Univex provides specialised retail systems for a number of industry segments including pharmacy, educational toys, furniture, apparel and, of course, garden centres.
How Univex works with customers

POS SOFTWARE
Univex is known for creating great outcomes for our customers. We start out not by 'selling' systems to our prospective customers. Rather, we prefer to personally introduce them to our existing customers, and their businesses. This gives them the opportunity to see our system in action for themselves, and get feedback from real users. In addition, as we travel between the different enterprises, we have an opportunity to discuss their needs and to gain an understanding of what they would like their proposed systems to do for them. We believe that such an understanding is the foundation of all mutually satisfactory business relationships.
Univex is known for creating great outcomes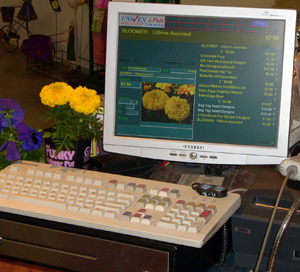 As all of our customers will tell you, Univex has been successful at delivering systems that work well for them. These contrast sharply with run-of-the-mill systems that require the business to work for the system. We provide much more than POS systems, or accounting systems. We provide a highly customisable business management system, tailored to the specific requirements of the particular business.
Our customers are all very different and run enterprises turning over between 100K and 100M annually. These include single premises-based businesses, as well as those running multiple branches across a number of states with a head office. The one thing they all have in common is that they like their Univex Systems and the support we offer them.
Selecting the right POS system
Three key principles
Based on my experience in this area, there are three key guiding principles that I believe are important when considering a POS computer system for your business:
The primary concern and motivation of all prospective POS purchasers should be an enhanced customer experience.
Cost must not be the primary consideration provided one has identified a measurable benefit that will outweigh the initial and ongoing costs.
A business should have a system in place to measure the benefits of installing a new POS system.
I am open to further discussion on these. For now, I will briefly expand upon the three principles.
Enhanced customer experience
When thinking about purchasing a new POS system, improved GP, better inventory control, and greater efficiencies, are all noble business goals. However, the primary concern and motivation should be an enhanced customer experience. Let me explain.
The primary function of every employee in any business is to create and maintain customers! This is as close to an axiom in business management as one can get. My first principle is merely a logical progression of this.
If the result is customer neutral, the very least that this represents is a missed opportunity!
If the result of installing a POS system becomes the opposite of an enhanced customer experience, the outcome could be detrimental to the business. If the result is customer neutral, the very least that this represents is a missed opportunity! The larger the expenditure and training effort, the greater the opportunity that has been missed if the result is less than a greatly enhanced customer experience!
Like any other expenditure and effort in the business, the result should translate to more customers, more sales, and greater profits. When adding a new shelf we should ensure it does not merely hold up merchandise, but was actually designed to display signs and prices to create an enhanced customer experience. This principle should extend to everything we do.
Enhancing customer experience is everyone's responsibility
When accurate stock counts are merely an accounting function, it is the responsibility of an accountant, a buyer and perhaps a couple of employees who look after it. When accurate stock counts are there to enhance the customer's experience, it becomes everyone's responsibility. Because problems are nipped at the source, the result is a more accurate stock count, with what appears to be a lesser effort.
The emphasis on enhancing the customer experience provides a compass-bearing for everyone to head towards – a shining navigation marker, to create a positive cultural change. This helps focus all those employed in business services on the fact that their job is to provide service to the business – whose job is to provide service to the customers?Ķ
Cost must not be the primary consideration
I am not suggesting a blank cheque approach here. Provided one has identified a measurable benefit that will outweigh costs, I am merely suggesting that: What will it do for me? is a better question than: How much is it? Our aim should not be to merely spend less, but to enhance profits by spending less than we earn.
An 'expensive' POS may increase sales and profits while a 'cheap' POS may be sales neutral and actually decrease profits. Which is really the more expensive POS? Small increases in sales, and GP, will more than pay for a very good POS system. What is important is that these potential increases are identified in advance and that success in achieving them can be monitored.
Performance is always the key
All too often however, when management does not understand their purchase they look at price for comfort. One would not make other critical business purchases purely on price. The cheapest forklift or truck will not enhance your business simply because it is cheap. Performance is always the key.
A system to measure the benefits
Every business requires planning and systems. If a business does not have a system in place to measure the benefits of introducing a new POS system, the business is not ready to take on a computerised system. The two systems need not be far behind each other, but the management system must go in first.
Before you make your purchase, ensure that you have the planning and controls in place so that you can not only succeed but also measure your success. This will highlight many other facts about your business that will help you move forward with confidence at a greater speed. The benefit of having a business mentor or a visionary navigator or at least a cartographer cannot be over-emphasised. More than any other professional help this is important for assisting one to find one's bearings and direction. This website is run by an organisation which can offer you the best in setting the right course and managing your progress along that journey. The very least that you should be doing is availing yourself of the services offered here and find out what you can achieve.
The nitty gritty
And now to business! You have decided to get a POS system for all the right reasons; the system should pay for itself several times over; and you have the controls in place to monitor its success. How do you select the right system? What does the right system look like?
How well does your system provider understand your business?
When making a decision as to what is best for your business, some of the things you need to think about are "What compromises are you willing to make?" and "How well does your system provider understand your business?"
We can start by saying that all systems look alike, at least to the outside observer. This is because they all utilise similar hardware: Scanners, cash drawers, receipt printers, LCD screens etc., all look alike. There are a number of differences though. Surprisingly the price is not the same unless the items are identical. POS companies will try and sell you the hardware that their systems run best on. They test the various offerings from hardware vendors and pick those components and combinations of components that work best with each other and the PC combination that works best with their software. Whilst hardware selection is not critical to the outcome, it would be wise, once the software has been selected, to at least seriously consider the vendors' recommendations.
There are different types of software packages available:
Very low cost shrink-wrapped ones which best suit DIY candidates;
Accountant type packages that impose a system on a business; and
Business-oriented tailored packages that are very efficient.
So which of these is likely to be best for your business?
One-Size-Fits-All is not comfortable for most!
The low cost shrink-wrap packages have their place in the market. They are certainly superior to having no system at all!
The accountant type packages also have their place. These fill a need created by people who like to have the same system they learnt on when they left school. They are, however, the business equipment version of One-Size-Fits-All. Unfortunately not everyone is comfortable with the fit. Those for whom the fit is perfect love it. All the others end up working for their systems and discover on a daily basis the many ways it does not fit their size.
However, no two businesses are alike. Therefore solutions that work 'out of the box' are unlikely to fully satisfy the complex requirements of most enterprises. Generally speaking, the business-oriented, tailored packages are likely to provide greatest satisfaction to the majority of customers. This specialised tailoring is one of the strengths of the Univex range of business systems.
Specialised business management system for nurseries – Univex Botanica
Univex Botanica
Our specialised computer business system for nurseries, Univex Botanica is a system designed to provide an enhanced customer experience. Easy to learn and operate, it is a system that truly works for the business, instead of the other way round, as our customers will gladly attest.
A contributing member of the sales team
By turning our system into a contributing member of the sales team, through competent use of the database, smart logic, data capture, and scanning technology, we ensure better, practical, every day results:
Ours is the only system that encourages ordinary members of the public to come back. All other systems tackle the 'wrong guys' – those who are already loyal customers. Whilst we ensure that members of our various loyalty clubs are well catered for, we pay special attention to capturing that 90% of foot traffic all other systems ignore!
Our largest and best-organised customer, who had a good system before they had Univex Botanica installed (and were therefore able to monitor this), improved their GP by 2% in the first year!
Univex Botanica offers the ability to create weatherproof signage instantly, with a minimum of fuss, and without the need for labour-intensive lamination.
Our systems create How to Guides.
We have demonstrably the best, most cost-efficient label printing methodology.
Our POS systems incorporate excellent retail methodology.
We offer paperless purchasing.
Two optional time and attendance systems are integrated into Univex Botanica.
We have integrated web technology that saves thousands of dollars in labour.
We have integrated catalogue production technology that saves thousands of dollars in labour.
Unique individualised benefits
Along with benefiting from the same standard basic features, improving their sales and GP figures, as well as their overall efficiency, each of our customers gets some additional unique benefits from our systems! No two businesses are alike and our customers prove this by deriving many unique individualised benefits from the systems.
These are just a few of the numerous areas we have explored together with many of our customers, to produce a customer-friendly, highly efficient, labour-saving system.
As well as the above, we offer our software on a 12-month sale or return basis to all new customers. We have never had one sent back! We also offer interest free rentals of all systems.
An invitation
In this article I have explained how Univex works with customers and described some of the important principles to consider in making a POS purchase. I have also detailed our Univex Botanica nursery business system. Now I will quickly sum up and extend an invitation for you to meet with us:
Every business requires planning and a One-Size-Fits-All approach isn't always the right approach. At Univex we offer a range of solutions that can work harder for you. This means higher customer satisfaction and increased sales for your business. Univex does not compromise on quality, so you can be assured your system will work hard for you – not the other way around. We do not spruik or pitch our systems; instead we invite those who enquire about them to speak with our existing customers. See what Univex has done for others and then ask what it can do for you.
We look forward to meeting with you!
David M. Abouav
Executive Chairman