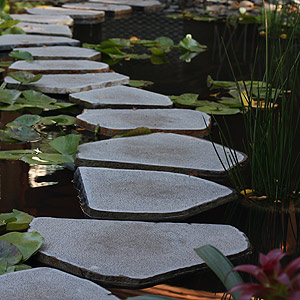 Garden pond designs can include many features including waterfalls, built in fountains, stepping stones and overhanging plants. And for extra interest fish or 'Koi' can also be added to even a small backyard pond.
Garden ponds are a great idea for a feature in any garden, and when you use specialist garden pond liners and provide shade for your pond by using appropriate garden plants water loss from garden ponds and other water features through seepage can be minimised.
Materials and Pond Kits
Ponds kits are readily available, these include preformed garden ponds made from UV stabilised PVC or similar products. A waterfall flowing into a garden pond is another element to consider adding to your garden pond design. Fountains can be another very worthwhile feature in any garden pond.
Large open ponds with stepping stones (pictured below) may require construction by an experienced contractor.
Factors to consider when designing and building a backyard pond
Having read our article on how to build a pond we provide a few other factors worth considering.
Slope: Usually a fall of about 30cm in 3m is enough for a stream to run.
Water loss: Water loss can be minimized by using a good quality pond liner to line both the pond and stream. Streamside planting to provide shade can also help minimize water loss through evaporation.
Rock: Rocks and stones lining the stream help give a natural look. Rocks around a pond also look great.
Pumps: Water flow is important, so a quality pump and filtration set up is essential. Pump suppliers can recommend an appropriate pump for the required water flow.
Overflow: It is essential to make provision for overflow. Connect you pond to an overflow pit or a storm water drain (consult your local council for regulations)
Plants: No water garden is complete without plants.Astilbe, Dicentra, Lobelia, Aquilegia, Ferns, Hostas, Rhododendrons, Rodgersia, Water lilies all do well in damp conditions. Plants provide a more natural look as well as protection from sun.
Koi or 'Nishikigoi' Keeping fish in ponds is a popular hobby in many parts of the world, Koi, which are sometimes referred to as the 'Swimming jewels of the Orient' are the most popular of all pond fish. Koi are a small Japanese fish used in ponds for the color and movement that they bring.
Fibreglass Pond. A fibreglass pond or preformed pond is a simple alternative to building your own pond. You will still need to dig the hole, however other procedures can be much easier. Fibreglass ponds come complete with a range of extras, including waterfalls, fountains and rock surrounds.
BlanketWeed Blanket weed is an algae and can easily choke a pond. For information on Blanket weed control read on….