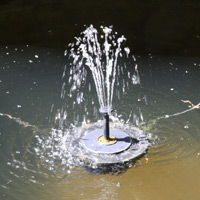 Solar fountain kits and solar powered pond and fountain pumps are now a viable alternative to conventional electric powered fountain pumps and are readily available for sale from Online suppliers.
Solar powered fountain pumps and kits may be adapted to fit existing fountains, ponds and water features. Consult with your supplier as to the suitability of a solar fountain kit for your particular needs.
Power delivered by a solar powered fountain pump may vary depending on the intensity of the sun, cloud cover and time of day. Battery back up systems are available to help overcome this problem.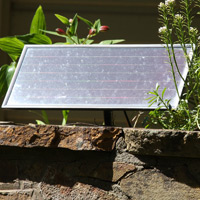 Solar Fountain Kit Parts
Solar Fountains and solar powered water features are usually sold in DIY kit form ready to attach to an existing fountain. The pump kit usually consists of :
A submersible pump (pictured above)
Solar panel
Fountain head (pictured top)
Flexible piping
Some solar fountain and pond pump kits come with an optional battery power storage system that allows night time use.
Solar Fountain Installation.
Now a popular alternative to other garden fountain and pond pumps, Solar powered garden fountain pumps and kits are easy to install in pond with no costly wiring.
It needs to remembered that solar fountain pumping heights range from as little as 12cm to 2.5m and more according to on brand and model.
Locate the solar fountain panel so that it faces South in order to maximize the power harnessed.
Avoid shaded areas and remember that with a long cable Solar fountains can be located a distance from the the solar panel itself if needed.
Readily available for sale Online, this is a brief guide to solar fountains and solar powered fountain pumps.
Solar fountains and pond pumps are particular popular in the following states : New Mexico, Colorado, Arizona, Louisiana, California, Wisconsin, North Carolina, Missouri, Florida and Texas.