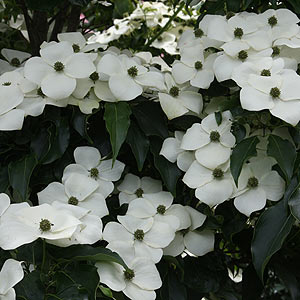 When we look for some of the best examples of spring flowering trees, often the very common varieties are put forward.
Chanticleer Ornamental Pear (Pyrus calleryana 'Chanticleer') are a great spring flowering tree, however they are rather large.
A few less common trees perhaps lay claim to being the most beautiful. Davidia involuctra is one such tree, wonderful white flowers hange beneath the foliage, truely eye catching.
The spring flowering Cornus kousa 'Trinity-Star', pictured right is another example of what a wonderful spring flower display you can have in your own garden.
Many wonderful varieties are available for both small and large gardens, we bring you a list of some of the best spring flowering trees.
7 Best Spring Flowering Trees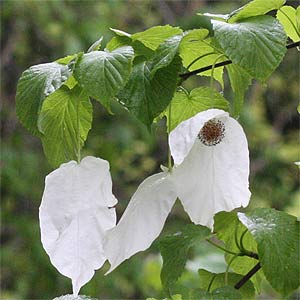 Crepe Myrtle or Crape Myrtle – Lagerstroemia indica – Crepe Myrtles come in a range of colors from pinks and whites through to reds and are a spring flowering beauty. New dwarf Crepe Myrtles are available and these low growing shrubs can make a spectacular display. Crepe Myrtles are drought tolerant and hardy.
Cornus – Cornus or the 'Flowering Dogwoods' are late spring flowering trees. Large attractive flowering bracts. Cornus florida, cornus kousa, cornus sericea, cornus alba and cornus mas are all popular species. Many cultivars are also available.
Malus (Crab Apple) – Crab Apples are a favorite spring flowering tree. Malus ioensis 'Plena', Malus spectabilis 'Plena' and Malus ioensis Rubra are favorites.
Prunus (Flowering CherryCherry) – The Japanese have a festival devoted to the flowering cherry, and with so many cultivars available the choice is outstanding.
Deciduous Magnolias – With wonder waxy flowers from pure white to deep red, deciduous magnolias are a star attraction in spring. From Kentucky to Oregon and New York to California, deciduous Magnolias are a standout spring flowering tree.
Cercis canadensis – The Redbud just sings out spring. With luminous red flowers on bare stems, it is a standout. Great in zones 4 – 9.
Davidia involuctra – The Dove tree or 'Pocket Handkerchief tree', wonderful white flowers in spring, hardy in zones 5 – 8 depending on the cultivar.