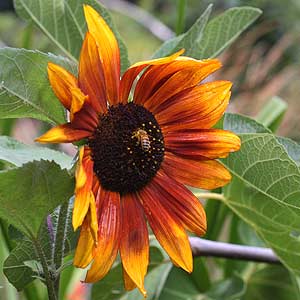 We would all like a garden full of flowers all year round, and summer is a time when we need to choose the hardy types of flowers that can stand the heat.
The best varieties of flowers for summer will vary according to zone, however with a little planning you can have flowers right trough the warmer months.
Some of the all round 'best summer flowering plants' include the Hibiscus, and here we are talking about not only the tropical types but also Hibiscus syriacus, excellent in those zones that get cold winters.
If you happen to live in an apartment and just cant grow those bigger plants, then think of sone of the potted plants that will flower in summer. Petunias are one, long flowering, grow them in a pot, a hanging basket, or in the garden.
Zinnias are another that can be grown in containers as well as in the garden, they should keep you in flowers all through summer.
If you have a warm sunny position, then Day lilies perform well for months. The individual flowers do not last long, however they will repeat flower for months.
Roses are at their peak in spring, however many will repeat flower through summer, and you can get low growing types that will grow in a container.
Best Summer Flowers
If we lived in a warmer zone, our number one plant would be the Plumeria, fragrant and sun loving. However, we do not so here is our list of the best.
Gardenia, fragrant and attractive white flowers.
Bougainvillia, brilliant colorful flowers.
Lavender, tough, attractive flowers and very easy care.
Echinacea, we love the cone shaped flowers, and lots of colord now available
Dahlias, by late summer these are the stars of many gardens, under rated.
Petunias, especially by the pot full, grow them in containers.
Zinnias, they love the hot weather and will keep going into fall.
Daylily, they flower right through summer, again lots of colors.
Sunflowers. tall and happy, you just have to love them.
Buddleia, the butterfly bush, lots of flowers and it attracts butterflys, so why not grow them.
A – Z list of summer flowering plants
Our list of summer flowering plants
The Zones that we are recommending are for growing outdoors, and overwintering outdoors. Many of these plants can be overwintered indoors, on a patio or in a greenhouse and put outside to flower in summer.
Achillea
One tough summer flowering plants, Achillea will grow from USDA zone 3 through to 9

Adenium
Outdoors USDA Zone 10 – 11
Agapanthus 
Again these are tough, anywhere i n USDA Zones 6 -11
Amaranthus
Asters – Zone 4 – 8
Astilbe – Zone 4 – 8
Buddleia
Bougainvillea – Zone 9 – 11
Canna – Zones 8 – 12
Carnations – Zones 3 – 8 depending on variety
Chrysanthemum – Planted as annuals in colder zones, USDA Zones 3 – 9
Convallaria – Zones 3 – 7
Cosmos
Dahlias
Daylilies
Echinacea
Gaillardia
Geranium
Gingers
Hydrangea
Iris
Lisianthus
Petunias
Roses
Rudbeckia
Salvia
Veronica
Zantedeschia
Zinnia
Visit or specialist plant index for a list of nurseries and garden centers