We look at the best rose bushes for the garden.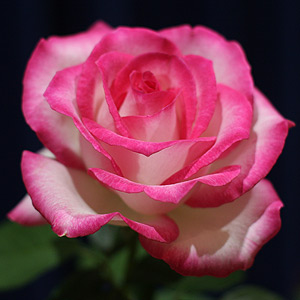 Every gardener has favorite plants, and with roses the top ten list is a matter of debate as with all plants. Our list is of the best roses and most popular roses for the garden compiled from our own experience as well as reader input and search popularity.
For many gardeners roses such as Lynn Anderson, pictured right will be some of the best looking roses. However we also need to take into account disease resistance and perfume.
Some of these roses are old favourites, some are new releases. Includes Links to Rose Nurseries in the USA. Mail Order Rose Nurseries, Specialist Rose Nurseries,
Any guide to the Top Ten Roses for the USA is certain to create a little discussion. With so many great roses available it does come down to personal preference, but here is our selection. Feel free to disagree, even send us your own list…….
How we chose our top roses
If we purely went on the best selling individual rose it would probably be the well known 'Iceberg', yes it has been around a while, however it still sells incredibly well, prolific flowering, disease resistant and really as tough as you can get.
And of course 'Knockout Roses' are also best sellers. However we are looking at what we see as the best and this is opinion.
We talked to growers, retailers and gardeners to come up with two lists, the first is our 'best list'.
The second is a compilation of gardeners 'best roses'.
Our Top Ten Roses

Double Delight Rose Double Delight Rose
This is widely regarded as one of the best roses and a definite 'Top Ten'. It has been in the rose hall of fame since 1985.
A white to pink hybrid tea rose, the edges are flushed with a carmine red. Gardeners love the naturally long stems that make it good for cut flowers. Bred here in the USA by Swim and Ellis.
Good perfume, a relatively small bush also available as a standard.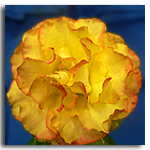 Rose Tequila Sunrise. If you are looking for brilliant color, then Tequila Sunrise is the rose to provide it for you.
This is an award winning rose, red on yellow hybrid tea rose, great color. Sold as a bush, a patio standard as well as standard.
Great glossy foliage and excellent when mass planted as a bedding rose. Bred in the UK by Patrick Dickson. Best suited to warmer zones, 7 and warmer.
Rose Iceberg – Iceberg Rose
One of the top roses of all time. An outstanding and proven performer, repeat flowering, disease resistant with attractive white flowers. Available as a climber as well as standard and bush.
This is a floribunda rose, fairly vigorous with a light to medium fragrance. Bred by Kordes in 1958 and still selling well all around the world. A very easy rose for beginners, and in warm climates it will flower almost year round. As a matter of interest it is also known as Fée des Neiges which means 'Snow Fairy' as well as 'Schneewittchen' meaning 'Snow White'.

Rose Graham Thomas Graham Thomas Rose
Another best selling rose and it is also in the Rose Hall of Fame. Golden yellow flowers, we grow this as a climber and it flowers early and continuously. Masses of flowers in clusters.
Deadhead after flowering and it will produce another great flush of flowers in a month or so.
This is one of the best David Austin Roses and is grown as a climber due to its vigorous nature. Graham Thomas is a repeat blooming, disease resistant rose. Lightly scented and a great yellow.
Pierre de Ronsard Rose
A relatively small climber, but lots of large flowers over a long period. Bred by Meilland and named after a French poet, this rose has a light fragrance is hardy and a reliable climbing rose.
Fragrant Cloud Rose
Large well formed orange to red blooms with a strong 'rose fragrance'. This rose smells like a rose should, the fragrance is very strong, and can be a little over powering close up, however, in the garden, on a warm evening it lives up to its name. A hybrid tea rose bred by Tantau in Germany.

Rose Gertude Jeckyll
Another David Austin pink flowered fragrant beauty, named after garden designer Gertrude Jeckyll. Give this one a light prune it spring and again in the autumn. Makes a good cut flower. This is a versatile rose, it will reach around 4ft and can be pruned to that, it can also be allowed to grow taller and used as a small climbing rose. It does have a lot of thorns, however its flowers, perfume and free flowering nature make it a winner.
Desprez a Fleurs Jaunes Rose
One of the more unusual selections is this Noisette hybrid. A vigorous climber that can reach 9-12 ft. Apricot flowers with an musky perfume this is a rose that likes a little warmth, so in cooler zones plant against a sunny wall. It will reward you with masses of flowers. We have seen it left grow through small trees, it looks great, however I am not sure this is a long term proposition for any rose. Consider Crepescule as an alternative.

Rose Sweet Haze
This is a new release from Rosen Tantau. Yes, we know this is rose of the year, however we love it for lots of reasons. It's less formal than many roses, its long blooming or repeat flowering. It has great lilac-pink flowers that carry a nice scent and is a low grower. We think it will be popular for a long while.
Sweet Haze ® Image Courtesy Rosen Tantau
Princess Alexandra Rose
Long stems, great deep pink color and not to many thorns. Fully cupped flowers on a small growing bush, excellent for containers. A great rose for cut flowers.
Gardeners Choice
Best Roses as chosen by our readers.
We went through all of the selections of roses and came up with this list, some are the same as our 'informed' selections, and other are very different.
All of these roses should be available online. After looking at the list we think we might need to buy a few for our own garden. Jude the Obscure and Sharifa Asma are two we think we are missing out on.
Souvenir de la Malmaison
Julia Child
Gertrude Jekyll
William Shakespeare
Papa Meilland
Double Delight
Abraham Derby
Chicago Peace
Jude the Obscure
Sharifa Asma
Sombreuil
Mister Lincoln
Mutabilis