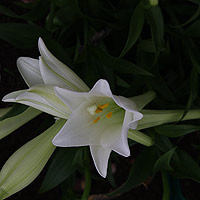 White flowers are popular, in the garden, as cut flowers and in posies. They give the garden a cool and calm look at any time of the year, and some have perfume as an added bonus.
Grow them as a feature plant in the open, or at the back of the garden border where they lighten up a sometimes dull area. They do look great in the morning, and evening, however white flowers contrasted against deep green foliage add interest all day long.
With so many types of white flowering plants available it is possible to plant a whole garden of white flowers. It would be fairly simple to pick a list of Roses, Perennials, Annuals, Bulbs as well as Trees and Shrubs that have white flowers.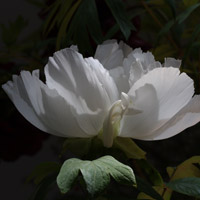 Why are they so popular ? They add an instant impact to shaded areas and a sense of calm and purity, and to add to the impact, some white flowered plants are just plain beautiful with fragrance and intricate forms to match.
Lily of the Valley is a favorite, wonderful small white flowers with fragrance, for size some of the Magnolias are brilliant and for something different try Davidia involuctra or 'Dove Tree'.
If garden design is your passion you could look at the White Garden at Eyrignac in France for inspiration. The white garden at Sissinghurst with its grey and green foliage of masses of white flowering plants is another to look at.
Meaning of white flowers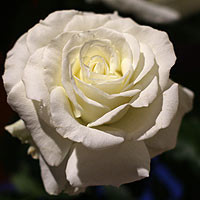 The Meaning and Symbolism of White flowers is a little difficult to explain in general terms, cultural aspects and traditions vary greatly, so meanings change for a particular white flower in different countries.
It is often thought that white flowers symbolize purity and innocence, they are seen at Weddings and Christenings as well as used in bouquets. However they are are also seen at Funerals, Graveyards and Churches.
They still symbolize purity and innocence, both in life and in death. And of course the white rose was also the the sign of the Duke of York, in the war of the roses in 14th C England.
The Best White Flowering Plants
So what are the best ones for the garden, what are their names and why use them?
We look at a list of some of the best separated into types, and provide pictures of some of the best.
Used as a symbol of purity, mixed with darker foliage plants to provide contrast and even as a garden theme, they are very popular as garden plants and as cut flowers.
Zantedeschia (calla lilies) and Iceberg Roses are two of a long list and are among the most popular available.
However many other plants have equally beautiful white flowers including orchids. If you are looking for white flowering plants for the garden we present a collection of some of the better ones for you to consider.
White flowering roses include:
White Rose
Iceberg
Tineke (Pictured)
Sombreuil
Avalanche
Alba Maxima
Margaret Merrill
Pascali
Anne-Marie de Montravel
Fair Bianca
Alba Meidiland
Bouquet Tout Fait
Francois Guillot
Frau Karl Druschki
Glamis Castle
Rosa rugosa var alba
White Flowering Perennials.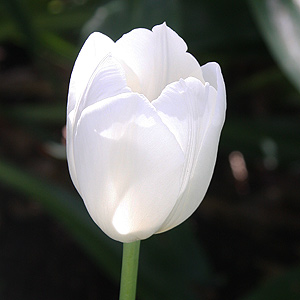 Remember that only some species will be white flowering, others may have yellow, red etc, so ask 'is this a white flowering form'.
Solomon's seal (Polygonatum)
Astilbe
Aquilegia
Daffodils
Crocus
Trillium
Orchids
Clematis
Echinacea (white form)
Hemerocallis
Delphinium
Leucanthemum
Lily of the Valley
Hibiscus (Luna white and others)
Papavear
Peonia
Iris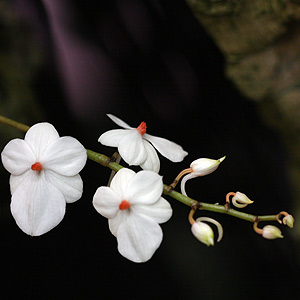 Trees and shrubs
Again flower colour often depends on particular form. Ask 'is this the white flowering form?
Malus ioensis 'Plena'
Davidia Involuctra
Hydrangea
Prunus 'Shirotae'
Brugmansia
Cornus florida
Syringa vulgaris (Betsy Rose and others)
Magnolia stellata
Magnolia Kay Parris, Little Gem and Teddy Bear.
Chionanthus virginicus
Catalpa bignonioides
Camellia varieties