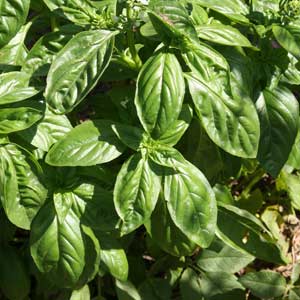 Growing Basil plants from seeds or seedlings is fairly simple if you follow a few guidelines.
Basil plants come in a number of varieties the most popular being 'sweet basil'. (see picture at right)
Best grown in USDA Zones 10 and above, basil can also be grown indoors in cooler climates or during colder months.
Basil grows well in containers or pots and also does well in the vegetable garden where it can be grown along with tomatoes.
In warmer zones growing basil is very easy, in cooler areas you may need to start seeds and seedlings indoors or in a greenhouse or cold frame for best results.
How to grow Basil
Basil is best planted in spring after the risk of frost is over, or consider starting basil from seeds indoors or in a greenhouse.
Basil requires a humus rich moist but well drained soil both in the vegetable garden as well as when growing basil in containers.
Seeds are best sown into a seed raising mix or potting soil or in individual pots.
Thinly sprinkle seeds over the seed raising mix or potting soil and cover lightly.
Water in well and place in a warm well lit position.
Seeds should germinate in 8 – 10 days.
Once seedlings have 6-8 leaves they can be transplanted into the garden if required.
Remember that basil requires 6 – 8 hours of a sun a day to grow well. Basil does not really like extreme heat, it tends to 'bolt' or go to seed. Basil requires a moist but well drained soil.
Purple Basil

Basil Varieties
Although the most popular basil variety is the 'sweet basil' or Genovese Basil, a number of other varieties are also widely grown including the purple basil (picture right).
Greek basil is a much finer leafed variety and a little more cold tolerant .
Thai basil and Holy basil or 'Tulsi' are other varieties.
Basil seeds are readily available to buy from nurseries, garden centres and mail order suppliers.