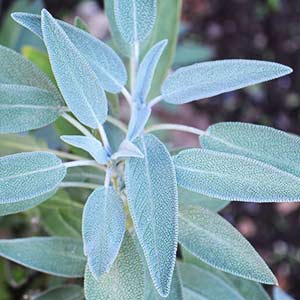 The common or culinary sage is Salvia officinalis. It will depend on which zone you live on as to if it is a hardy perennial or not. For those in USDA zones 5 to 8 it is an easy plant to grow
Grown for the leaves which add a sourly taste to meat dishes, sage grows well in containers which makes it easier for those in cooler zones to over winter.
The foliage itself is also ornamental, Blue green with a velvety texture. Sage will flower and the blue flowers are attractive, however it is the foliage that is used in cooking.
Generally one sage plant is enough for the home gardener. When grown in a fertile soil, with a little extra moisture, these are productive plant.
You can pick and dry sage for use during winter months. Simply cut and hang upside down it a well ventilated position until it drys ready for storage. We tend to use the fresh leaves only as the taste is superior.
One of the well known uses is in the Italian recipe for Saltimbocca.
How to grow Sage
Position – Full sun to a little afternoon shade
Soil – Humus rich, loamy and well drained.
Propagation – Easy from root cuttings.
Overwintering – Sage plants will need to be overwintered in a protected position in cooler zones. They do not cope well with freezes. Sage can die back in winter. If it does not receive a freeze, or heavy frost it will usually grow back well in mid spring.
In more humid zones it is grown as an annual.
Planting Sage
Choose a sunny position, plant your sage and water in well.
Keep the soil moist for but well drained for best results.
Prune back regularly to promote a bushy growth habit.
Mulch around sage plants to maintain a cool moist root run.
Propagation Methods.
Sage is easy to grow from cuttings taken in spring. You will also find that root cuttings are easy to take
Sage Varieties
It is Salvia officianalis that is the main species grown for culinary use..
Salvia officinalis 'Berggarten' – Larger growing and more ornamental.
Salvia officinalis purpurea – Purple foliage
Sage plants are readily available to buy from nurseries, garden centres and mail order suppliers.