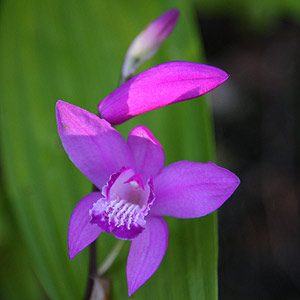 As far as terrestrial orchids go, Bletilla Striata are by far the easiest to grow. Attractive flower in spring and strappy grass like foliage these hardy orchids are a must.
A spring flowering plant, Bletilla Striata are also known as "Chinese Ground Orchids" and are indeed best grown in the ground.
Best known for the purple flowering variety, pictured right. A terrestrial orchid they can easily be grown in the garden border or in pots and containers. Flowers will open sequentially with up to 6 – 8 flowers on a stem.
A little temperamental, they might take a year to settle in and flower, however once they do they are very hardy.
Care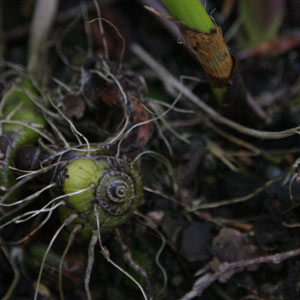 Easy to grow in the right conditions and do not require much care, however they have a tendency to sulk if they do not like where they are planted.
Plant the bulbs with the growing tip around 1 inch below the surface.
Bletilla Striata prefer a humus rich moist but well drained soil
They grow well where they receive morning sun and are protected from the hot afternoon sun.
After a few years Bletilla Striata will form a clump and will need to be divided.
Bletilla Striata bulbs perform well in USDA Zones 5-9. Many growers mulch in winter for protection.
Problems
Not Flowering
If you find that these orchids are not flowering then its time to move them.
Usually lack of flowers and poor growth means a lack of light, a position where they get either morning sun or bright filtered light is best.
Prone to attack by snails and slugs.
Last frosts can kill the flower buds
Varieties
Bletilla striata – The Pink Form
Bletilla striata 'Alba' is a white form, bulbs readily available for sale from online and mail order nurseries.
Bletilla ochracea – Rarely offered for sale. A yellow flowering species that is smaller growing and more difficult. One for the collectors.
Propagation
Over time these orchids will form a clump, they can easily be divided in early summer, just after flowering.
When you dig the clump you will find two types of bulbs. Old bulbs, the harder large ones, and Pseudo Bulbs, the newer smaller ones.
The older bulbs will not flower again, however you can either take an Old Bulb with some Pseudo Bulbs attached and separated them the from the clump. Or just take the Pseudo Bulbs and discard the older ones.
Bulbs should be replanted at around 1 inch deep below the surface.
Summary
Easy Care Terrestrial Orchid
Pink or white flowers
Mulch in winter to protect from frosts, or grow in containers and overwinter in a protected position