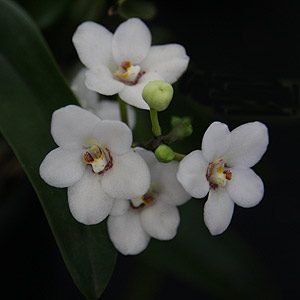 From the warmer areas of Australia and New Guinea Sarcochilus orchids are an epiphytic orchid that seem to adapt to cooler, however not very cold climates.
The species themselves are attractive, however as with many orchids it is the hybrids that are more widely offered for sale. The hybrids are usually easier to grow and this accounts for much of the popularity.
From forested areas Sarcochilus orchids like filtered light,, moisture and good drainage. Pictured right we have the hybrid Sarcochilus 'Melba' x hartmanii
Sarcochilus Orchid Care
Light – Filtered light is required, Sarcochilus do like less light than many species
Temperature – Warm and humid with good air flow. A temperature range of 48 F – 77 F is suitable
Humidity – 50% humidity is required for optimum growth.
Fertilization – An organic liquid fertiliser applied once a month during the active growing season seems adequate.
Water – Water every few days during active growth, watering can be cut back almost completely during winter. Avoid watering the flowers as this tends to mark then very easily. Do not water the foliage during colder periods. Always water during the cool of the morning, you can soak the pot grown types twice a week as an alternative.
Growing Medium – A pine bark orchid mix with some charcoal or coarse rock is most suitable, they can also be mounted onto cork or other suitable orchid mounts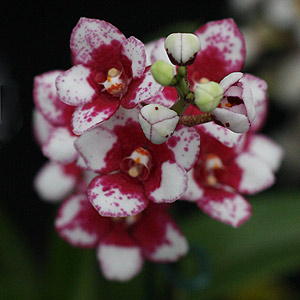 Other Sarcochilus Info
Sarcochilus orchids are often shortened in name to 'Sarco Orchids' as is the custom with orchid names.
Popular Species include
Sarcochilus flacatus
Sarcochilus australis
Sarcochilus hartmanii
Sarcochilus ceciliae
Sarcochilus weinthalii