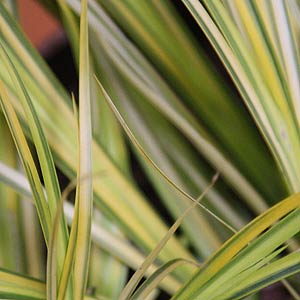 With strappy variegated foliage Acorus gramineus 'Ogon', is commonly called 'Golden Sweet Flag'.
A native to Japan, this is a miniature perennial 'flag' growing to 10 – 12 inches. This is an aptly named plant as Ogon means gold, and in the midst of winter, as the fogs and the mists roll in Acorus gramineus 'Ogon' is an ornamental grass that adds a glow to the garden.
These are not new plants, however with the fuss in landscaping circles you could be forgiven for thinking they had just been discovered. They are in fact proven over many years, they have great foliage year round and this is what makes them a real winner as an ornamental grass.
Grown mainly for its foliage the grass like aromatic leaves are soft, curved, narrow green and gold and add good color to the garden.
The name 'Sweet Flag' comes from the fragrance from crushed or bruised foliage.
Although this is sometimes classed as a water plant or marginal, it does grow well in any moisture retentive soil.
Care
Suited to USDA Zones 5 – 11
The rhizomes need to be planted so the top is just above ground level, very similar to those of a bearded iris. Prepare the soil well before planting, dig in lots of well rotted compost and leaf mold.
Requires a moist position and some protection from hot afternoon sun.
Naturally occurring along streams and in boggy ground.
Prune back to maintain shape.
Spreads through underground rhizomes.
Can be pruned back in spring to just above new shoots.
Best time to plant and divide is in early spring.
You will find some dwarf cultivars available if you are looking for lower growing types.
See the main Acorus section.
Propagation
Propagation is by division of rhizomes from established clumps, best carried out in spring just as new growth begins.
Cut back the old foliage to just above the new shoots.
Dig the clump with a garden fork.
Divide with a sharp spade or knife.
Make sure that each section has a good root system.
Replant and water in with a liquid seaweed fertilizer,