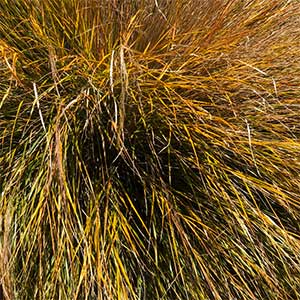 Anemanthele lessoniana or 'New Zealand Wind Grass' with its dark olive green foliage that turns to orange and yellow in Autumn is a useful clumping ornamental grass found for sale online.
This plant was formerly called Stipa arundinacea but has been reclassified recently.
Anemanthele lessoniana is also known as 'Pheasant's Tail Grass' with its long seed heads rising above the foliage in mid summer and sometimes referred to as Gossamer Grass.
This is a semi evergreen grass, close to freezing it will die back in winter and will need to be cut back to the ground in winter.
The foliage is around 2 – 3 ft high with the flower rising 1ft above them. It is the colour of the grass as it turns a yellow to amber as it is stressed by the cold.
In warmer areas the grass will be greener and will not die back.
This is one of the best ornamental grasses for colour, it make an excellent accent plant with only the centre of the plant being green, the rest is wonderful color. With its strong colors it works better as an accent plant rather than in mass plantings.
Care
This is a fast growing clump forming grass that grows well in full sun to part shade, preferring a well drained position. Requiring little care, old dead foliage can be removed if required.
Reaching nearly 1m (36inches) Anemanthele lessoniana works well as an accent plant in the garden border, can be used as an infill plant or can be used in pots or containers or as a specimen plant.
Try planting in a position where light will come through from behind, a favourite trick with many ornamental grasses, or perhaps against a contrasting background.
In areas that are dry the plant will be smaller
Summary
Full Sun
Excellent as a coastal plant
Good drainage
Avoid pruning
Deer tolerant or resistent.
More information
Available for sale from the following nurseries
---
SEQUIM RARE PLANTS
500 N. Sequim Ave. Sequim, WA 98382
Small mail order nursery with a very interesting range of perennials and other plants. Includes: A great range of rare and unusual plants.www.sequimrareplants.com