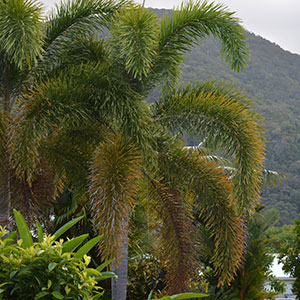 One of the most popular palm trees for landscaping is the foxtail. The species is Wodyetia bifurcata are they come as single or multiple trunk specimens.
Grown as street trees as well as in many gardens, the Foxtail Palm is regarded as cold hardy and is therefore useful in cooler states.
Although they promoted as being best suited to USDA Zones 9 – 10, Foxtail Palm are popular in Louisiana, Florida, South Carolina, Texas, Mississippi, Alabama, Nevada, Arizona, Georgia and California
The Foxtail Palm will grow to nearly 30 ft in height and have showy displays of foliage that has the appearance of a 'Foxtail'.
Foxtail palms will flower, and the flowers are followed by a large hanging cluster of red fruit. These can be collected for propagation if required.
Care
General Care
Foxtail Palms are a hardy palm and prefer a well drained position. Widely used by developers and landscapers.
Foxtail Palms prefer
Full sun, although they will grow in areas where they are shaded for part of the day.
Regular watering when young
Regular application of an appropriate fertilizer.
Although they can be grown in containers for a number of years, because of the height they will eventually outgrow any container.
Foxtail Palms are deep rooted and reasonably drought tolerant once established. Foxtail Palms are used widely in street plantings, as specimen trees and in group plantings.
In street or avenue plantings aim for a spacing of 10 ft as a minimum.
Excellent beside pools to give that tropical look.
They are a 'Self Cleaning' palm tree, they drop their old foliage. So no paying for someone to prune them.
Where to buy
Foxtail Palms are available for sale from the following nurseries
---
THE JURASIC GARDEN at A & A CYCADS
11801 Stagg Street North Hollywood , CA 91605
Phone: (818) 759-0600 Fax: (310) 859-0137 Cell: (310) 770-9657