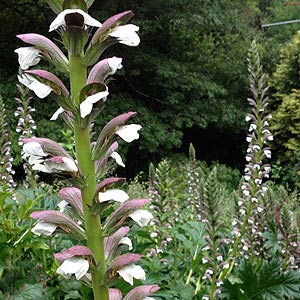 With tall flower spikes from spring through summer Acanthus mollis also has great textured leaves. It makes an interesting feature plant in the border, and can also be grown in mass plantings to line a fence or path.
The foliage is deeply lobbed, a little like oak leaves, glossy green and arching in habit. The flowers are an interesting mauve and white, also known as the 'Oyster Plant'.
For those who have been to Greece you will see Acanthus mollis represented in the Corinthian columns. It is a symbol of immortality.
It is the contrast between the spiky nature of the flowers and the softer texture of the foliage that gives this plant its name. Again a study of Ancient Greek will sort that out for you.
Its natural habitat is a Mediterranean climate and it requires this to thrive.
Care and cultivation of Acanthus mollis
This is a plant that requires a good rich soil to thrive, it like moisture as well as good drainage. Once established this a remarkable drought tolerant plant although in very hot dry summers it may require extra water.
From a seedling Acanthus mollis may take 2 – 3 years to flower, however they are most reliable after this.
Protect over winter in colder areas.
Acanthus mollis can become a little bit of pest or weed if left to get out of control, it tends to self seed.
It is a good idea to dead head before the seeds set. If you need to get rid of Acanthus mollis you have three alternatives.
Dig it out
Use a Glyphosate weed spray
Cut it to the ground and cover it with thick black plastic for a year or two.
Varieties
Acanthus mollis 'Hollards Gold' has golden green foliage
Acanthus 'spinosa' – similar however with spiked foliage
Propagation
Easy from seed planted in Fall or in Spring, avoid summer as the heat can make germination difficult.
Seed will require some warmth and moisture to germinate. Germination should occur in 3 weeks.
These are a clump forming plant, that spreads by underground rhizomes, and you can divide them in early spring. Make sure you take roots with the offsets.
Where To Buy
---
DIGGING DOG NURSERY – phone (707) 937-1130
PO Box 471 Albion CA 95410
Hard to find perennials, ornamental grasses, shrubs, trees and vines for your garden.
PINE KNOT FARMS – 434-252-1990 phone 434-252-0768 fax
681 Rockchurch Road, Clarksville Virginia 23927 USA
Mail-order, retail and wholesale of our speciality, is hellebores. Open on site on Fridays and Saturdays in spring and fall where we offer a full range of herbaceous material.