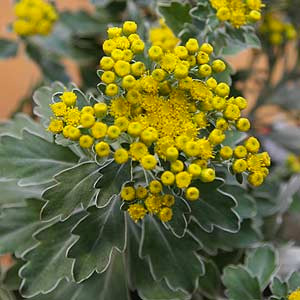 If a plant was named after a Russian port city then you would think it might be fairly hardy. Ajania pacifica is such a plant.
Also known as the 'Pacific Chrysanthemum' or 'Silver And Gold Chrysanthemum' this a rosette forming perennial with green foliage edged with a silvery cream. It is the soft flowers that rise above in spring that give it the gold part of the common name.
A low-mound forming perennial plant from from Russia and Japan over time it will form a dense clump . Growing to 1-2 feet with gray green scalloped felt-like leaves with a silver underside with clusters of yellow button-like flower-heads in autumn.
The flowers are exceptionally long lasting which makes then a favorite in the garden.
Care
Ajania pacifica are a reasonably hardy plants and adaptable plant that will cope with full sun to part shade. A well drained humus rich moist soil is best.
A little slow release fertilizer in spring seems adequate for most plants. Try to hold back on water during the winter months to prevent root problems.
If you are growing Ajania pacifica outdoors try hilling up the soil a little to improve drainage.
TOP TIPS
Ensure good drainage
Provide some extra water during very dry simmers
Do not over water
In hotter zones provide protection from the afternoon sun.
Allow good air circulation
Protect from frosts and freezes.
Hardy to USDA Zone 5.
Pruning
Generally not required.
Varieties
Ajainia pacifica 'Pink Ice' – The flowers have a touch of pink.
Ajainia pacifica 'Yellow Splash' – Green and yellow variegated foliage
Propagation
Older clumps can also be divided in spring. Easy to propagate from cuttings taken from spring to early summer.
Simply dig with a fork, cut the foliage back by 1/3 or more, divide the clump and replant, watering in with a liquid seaweed fertilizer.
Ajania pacifica are available for sale from the following nurseries
---
BLUESTONE PERENNIALS
Offering a wide selection of bulbs, perennials, grasses, herbs trees and shrubs.
www.bluestoneperennials.com
DIGGING DOG NURSERY phone (707) 937-1130
PO Box 471 Albion CA 95410 A spectacular selection of hard to find perennials, ornamental grasses, shrubs, trees and vines for your garden.
www.diggingdog.com