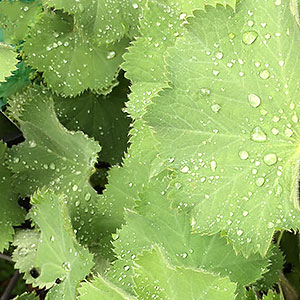 Also known as 'Ladys Mantle', Alchemilla mollis is an excellent low growing ornamental grown mainly for its lovely textured foliage which is covered in fine hairs that hold water droplets and create a lovely glistening effect in the morning.
Used widely in gardens from USDA zones 3 – 8 Alchemilla mollis is a remarkably hardy plant, low growing, reasonably frost tolerant and easy care.
Widely found in older gardens this is a mound forming perennial, a traditional plant for growing beneath roses, although it also works well in the border or when planted as an edging plant.
In deep shade you will find that Alchemilla mollis tends to struggle a little, especially in poorly drained soil.
Care
Best suited to zones 3 – 8 this is a fairly hardy plant that grows well in full sun (cooler areas) to part shade. Plants can be deadheaded after flowering to tidy up and prevent self seeding if required. Plants can be divided in early spring.
Top Tips
Best planted in light shade to full sun
Provide good drainage
Do not water overhead in warm summers as this can cause crown rot problems.
Deadhead after flowering to prevent self seeding
In humid warm areas Alchemilla can be subject to fungal problems.
Pruning
Pune back after flowering to remove the spent flower heads and encourage new foliage growth.
Varieties
Other Alchemilla species include:
Alchemilla ellenbeckii,
Alchemilla erythropoda
Propagation
East to propagate by division. Clumps can be lifted and divided in spring. Also possible from seed.
Alchemilla mollis are available for sale from the following nurseries
---
DIGGING DOG NURSERY – phone (707) 937-1130
PO Box 471 Albion CA 95410
A spectacular selection of hard to find perennials, ornamental grasses, shrubs, trees and vines for your garden. Includes: Alchemilla ellenbeckii, Alchemilla erythropoda, Alchemilla mollis and others