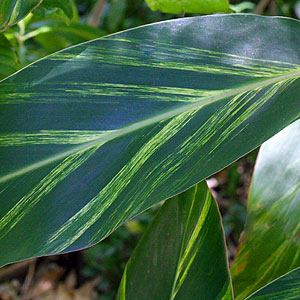 Alpinia are often known as gingers these are a great ornamental plant that do well in a range of conditions. The varieties differ greatly in flower form and foliage however many are very attractive plants.
Alpinia zerumbet is known as the Shell ginger and Pink porcelain lily. Alpinia vittata is a striped narrow leafed ginger while Alpinia purpurata is known as the Red Ginger.
Care
Alpina will grow to 6ft tall and require a humus rich soil in a warm, moist shaded position.
Varieties
With a number of species available for sale, seven of the best varieties are listed :
Alpinia zerumbet – The shell Ginger
Alpinia caerulea – The Cardamom Ginger
Alpinia nutans – The Cinnamon or Dwarf Ginger
Alpinia vittata – The Marble Ginger
Alpinia henryi
Alpinia formosana
Alpinia japonica
Propagation
Older clumps can also be divided in spring.
Alpinia are available for sale from the following nurseries
---
BRENT and BECKY'S BULBS
7900 Daffodil Lane Gloucester, VA 23061
Ordering: (877) 661-2852 Fax: (804) 693-9436