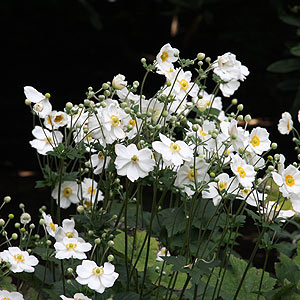 If you are looking for easy care fall flowering plants then Anemone x hybrida is one to consider.
Often commonly called the 'Japanese Anemone' or 'Japanese Wind Flower' these are a tall growing perennial that will reach around 3ft in height.
Flowers are held high above the foliage and vary from white through to a rosy pink depending on the variety. Foliage is a mid to dark green, deeply lobed and trifolate or maple shaped.
They will spread to form a clump, so live them a little room to move. They are excellent both in the border and for cut flowers
Care
All varieties prefer a humus rich moist soil. Good drainage is important. In most zones they will grow well in part shade, and in warmer zones they will need afternoon shade to perform at their best.
These perennials will die back in winter however bounce back to life in spring. Blooms appear over 4- 5 weeks. When picking for cut flowers, pick the flowers while in full bud, they will last well in the vase.
Prune back spent flower heads to keep tidy.
Best in USDA zone 4 – 8
Well drained moist soil
Protection from hot sun.
Varieties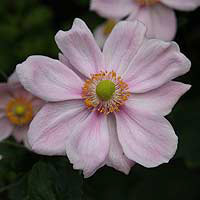 Pink Anemone x hybrida – The Japanese anemone
'Honorine Jobert' with its clean white flowers flowers from August into late fall.
'September Charms' is a pink flowering variety and will flower at the same time as others.
'Andrea Anderson' is another white flowering variety'.
'Whirlwind' is a semi double variety.
'Pamina' is a deeper pink than most.
'Pretty Lady Diana' is a pink flowering, lower growing cultivar that will reach around 18″ in height.
More information
These are Anemone hupehensis hybrids, they are from the ranunculacae family and are originally from China and Japan.
Problems
Anemone x hybrida suffer from few problems.
Very dry summers
Very wet soil
Powdery Mildew
These are a plant that form a clump with a dense fibrous root system, they are best planted away from smaller, delicate plants as they can tend to smoother them.
Excellent in a woodland setting where they can have room to move. Although they do spread, they are easy to control. Simply dig up the clump, divide and replant.