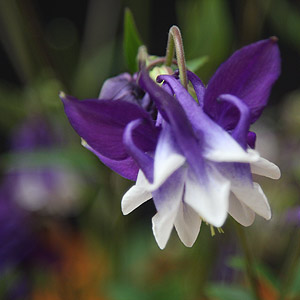 With attractive flowers and equally good foliage Aquilegia or Columbines are a wonderful perennial well suited to cottage gardens.
Also known as, Columbines and Granny's Bonnet, Aquilegia are from both North America and Europe. Many have large spurred flowers and modern cultivars are readily available for sale online.
With bell shaped flowers combined with the long spurs, aquilegia flowers also come as doubles and are most attractive. The lacy fern-like foliage is an great addition to the perennial border.
Aquilegia are popular plant for cottage gardens Aquilegia will self seed. and they make a most attractive and interesting cut flower.
The Red Columbine usually refers to Aquilegia canadensis 'The Wild Red Columbine' however lots of other columbines do have red tones. Red Columbine (Aquilegia canadensis) is a native plant found widely from Nova Scotia to Florida.
Care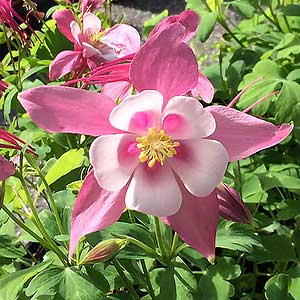 Aquilegia are a hardy herbaceous, clump forming perennial that do well in a cool position, they prefer partial shade and a soil rich in organic matter. Aquilegia will require water during dry periods.
They are regarded as hardy from zones 3 -9 and generally seen as woodlanders. A few species are alpines and will grow well in full sun, but only in cooler climates.
Preferring a well drained soil, species can be propagated from seed however many cultivars with improved color and longer 'spurs' are available.
Pruning
Although plants can be happily left to die back naturally you can give them a tidy up by pruning them. This can simply be by deadheading them, which will also prevent self seeding.
At the end of the season the foliage will die back, and if you wish you can prune this back, wait until fall.
Varieties
With over 50 species some have very attractive flowers and are worth looking for, a few of the best species include :
Aquilegia canadensis
Aquilegia formosa
Aquilegia vulgaris,
Aquilegia chrysantha
Aquilegia caerulea
Aquilegia alpina
However it is the hybrids that we most often see for sale, developed for larger lowers, multi colors and longer spurs.
The 'Barlow' strains are particularly popular
More information
Aquilegia are most popular the following states: Oregon, Colorado, Washington, Minnesota, Wisconsin, Massachusetts, Michigan, Pennsylvania, Illinois, and Tennessee.
Available for sale online from the following suppliers
---
PINE KNOT FARMS
681 Rockchurch Road, Clarksville Virginia 23927 USA
434-252-1990 phone 434-252-0768 fax
Mail order, retail and wholesale of our specialty, is hellebores. Open on site on Fridays and Saturdays in spring and fall where we offer a full range of herbaceous material.
DIGGING DOG NURSERY
PO Box 471 Albion CA 95410
phone (707) 937-1130
A spectacular selection of hard to find perennials, ornamental grasses, shrubs, trees and vines for your garden.