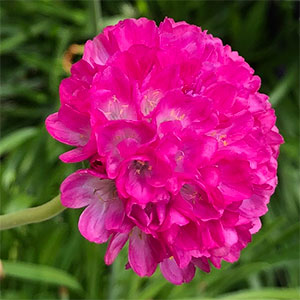 Armeria are a drought tolerant low growing ground cover with globe shaped flowers that rise above the foliage from spring to summer. These are an evergreen perennial and when planted en mass form a sea of color when in flower.
With large globe shaped flowers and deep silvery green grasslike foliage Armeria maritima is also known as Thrift and sometimes Sea Thrift.
The flowers rise above the foliage like little balls on a stick.
As the name suggests Armenia grow well in coastal conditions and as they are very low maintenance are very popular. The flowers attract butterflys and bees.
These plants require very little water and cope with poor soil as well.
Useful in the rock garden, many gardeners like to use Armenia for underplanting in borders and along pathways.
Care
This lovely little perennial requires little care, it does require good drainage however performs a little better with some moisture.
Plants can be tidied up after flowering by pruning back the old flower heads after bloom time which is from spring to summer.
Armeria require a well drained soil and are reasonably drought tolerant once established. If grown in damp soils you may find that the centre of the clump rots away, so provide a well drained soil.
Deadhead armeria after flowering and divide older clumps in early spring. Armeria thrive on poor soil, so fertilizer is not generally required.
Varieties
Armeria martima 'alba' is a popular white flowers species
Armeria pseudoarmeria has colorful flowers ranging from white through to pink and red.
Propagation
From seed or by division of established clumps.
Growing Armenia from seed
Seed can be sown from early spring to fall.
You will need to keep the seeds warm until the germinate aim for around 65 F which is a comfortable indoor temperature.
Soak the seeds for 3 – 4 hours and then sow directly into trays.
Surface sow and only cover lightly.
For best results use a propagator that provides regulated bottom heat.
After germination place the tray in a cold frame until seedlings are large enough to plant out in spring.
By division
Established clumps can be divided in early spring.
Armeria is available for sale from the following nurseries
CLASSY GROUNDCOVERS
PO Box 2556 city: Blairsville GA 30514
fax: 443-773-5627
Evergreen flowering ground covers, grasses, vines, ivy, … Free Shipping of over 150 varieties of quality groundcovers.