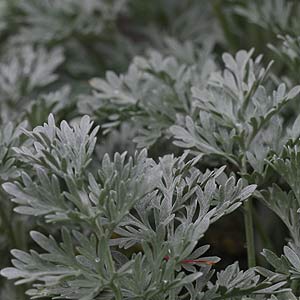 A varied group of plants grown for the silvery grey foliage Artemisia have many uses in the garden, They work well in the perennial border, some are great as backdrops for smaller plants and other are excellent ground cover plants.
They include taller growing shrubs to low growing ground cover varieties, most are used for the texture and color they bring to the garden as well as for the hardy nature.
Most species are not grown for the flowers with only A.lactiflora having significant flowers.
Some of the larger species are commonly known as 'Wormwood', they are also known as 'Mugwort and 'Southerwood'.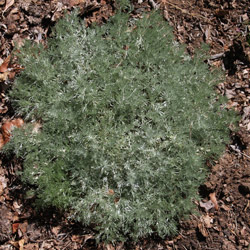 Our best Artemisia varieties are:
A. absinthium
A. lactiflora 'Guizhou'
A. scmidtiana 'Silver Mound'
A.Powis Castle a great silver foliage plant.
Care
All artemisia prefer a well drained soil and full sun, its foliage is a silvery color and it can easily be clipped back in autumn or spring to keep in shape.
Plants can be pruned back to maintain a more compact and bushy shape.
Best in USDA zones 7 – 9 although some species can be grown in colder climates. As they are a reasonably fast growing plant they can be planted in early spring and will add months of color to the garden in cooler areas.
The best species for cooler areas are A.absinthium, A.ludoviciana and A. schmidtiana, however in zones 6 and lower even these will struggle over winter.
Problems
Usually caused by wet soil where plants will simply rot away at the roots. Easily overcome by planting is a raised garden bed.
Artemisia or 'Wormwood' is popular in climates such as Montana, Idaho, Kentucky, Maine, Wyoming, New Mexico, Utah, Oregon, Vermont and Colorado. Artemisia are a varied group of plants, generally drought tolerant and hardy in the garden.
Varieties
With over 200 species, Artemisia 'powis castle' and Artemisia absinthium are two of the most well known of the species available for sale online.
Artemisia annua is known as 'sweet wormwood' , others include:
Artemisia schmidtiana 'Silver Mound' Nana is mound forming species suitable for use as a ground cover.
Artemisia abrotanum
Artemisia arborescens
Artemisia compacta
Artemisia lactiflora 'Guizhou' – Tall growing to 50″ – 60″
Artemisia stelleriana – The lowest growing form 4″ to 10″ depending on cultivar
Artemisia schmidtiana – Around 10″
Artemisia dracunculus sativa,
Artemisia lactiflora – Tall to 60″
Artemisia x latiloba 'Valerie Finis'
Artemisia ludoviciana 'Silver King' – Medium 35′ to 40″
Artemisia pycnocephala
Propagation
Easy from seed planted in Fall or in Spring, avoid summer as the heat can make germination difficult.
Also easy from cuttings taken in late spring or late summer.
Where to buy
---
DIGGING DOG NURSERY – phone (707) 937-1130
PO Box 471 Albion CA 95410
Hard to find perennials, ornamental grasses, shrubs, trees and vines for your garden.
PINE KNOT FARMS – 434-252-1990 phone 434-252-0768 fax
681 Rockchurch Road, Clarksville Virginia 23927 USA
Mail-order, retail and wholesale of our speciality, is hellebores. Open on site on Fridays and Saturdays in spring and fall where we offer a full range of herbaceous material.