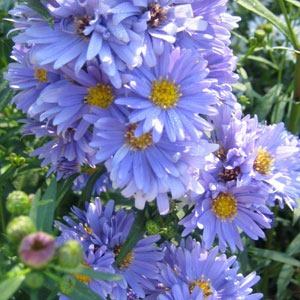 Asters are commonly referred to as Michaelmas Daisies, however with such diversity we think they deserve a little more recognition and explanation.
They are a large genus for a start, with over 150 species, varying from small alpine species to tall growing imposing plants. They are a stalwart in cottage gardens, coming to the forefront in mid to late summer, they really help to prolong the flowering season.
They are easy care, flowers in blues, whites and pinks and some with interesting foliage as well. One of the popular varieties is Aster nova belgii also known as 'The New York Aster', pictured right.
So if you are looking for plants that come in a wide range of colors and heights, put on a show of colors in late summer through to fall. Then Asters could be the ones.
Aster novae anglia is perhaps the most popular, however these versatile plants do have variety and are popular in all states. Particularly popular in in Minnesota, South Dakota, Wisconsin, Montana, Maryland, New Mexico, Washington, Vermont, Illinois, and New York.
Care
Full sun is best for good upright growth, they will grow in shade but tend to fall over and get lanky. Some of the taller varieties will need staking.
Aster flowers are daisy like and will flower over a long period. It is a good idea to deadhead aster plants to encourage a bushier plant with more flowers. Flower color varies from white through to purple, pink and red.
Asters are tough and are regarded as being reasonably drought tolerant. Full sun is OK.
Late flowering asters require little to no supplementary watering, work well in different positions in the garden and with so many different heights from low growing, to tall varieties are adaptable to a range of landscaping conditions.
Varieties
It is difficult to break the news, however their are simply not as many Asters around as there used to be.
Yes the name changers or 're classification' of plants has hit the Asters. However it will take a few years for this to work its way through the gardening world.
Species Include :
Aster asperulus
Aster cordifolius syn Symphyotrichum cordifolium
Aster divaricatus syn Symphyotrichum divaricatus
Aster ericoides syn Symphyotrichum ericoides
Aster lateriflorus syn Symphyotrichum lateriflorus
Aster novae-anglia syn Symphyotrichum novae-anglia
Aster nova-belgii syn Symphyotrichum nova-belgii
Aster oblongifolius
Aster pyrenaeus
Aster tataricus
Aster turbinellus
Propagation
Asters are easy to propagate by division and in fact will benefit from being divided every 3 – 4 years. Simply dig the clump in early spring and divide. Make sure you take a good root system when dividing. Water in the new plants with a liquid seaweed fertilizer and keep moist until new growth is strong.
You can also propagate asters from seed, sow directly into the garden in spring, or start them off earlier indoors using a bottom heat propagator. It is usually best to take the new seedlings and pot them into small pots until the root system develops before planting out. Seeds should tale no more than 2 weeks to germinate in good conditions.
Problems and Diseases.
These are a hardy plant that have few insect problems.
Root rot
In poorly drained soil root rot can be an issue.
Where to Buy
You can find Asters for sale at the following nurseries
---
PINE KNOT FARMS
681 Rockchurch Road, Clarksville Virginia 23927 USA
434-252-1990 phone 434-252-0768 fax
Mail order, retail and wholesale of our specialty, is hellebores. Open on site on Fridays and Saturdays in spring and fall where we offer a full range of herbaceous material.
DIGGING DOG NURSERY
PO Box 471 Albion CA 95410
phone (707) 937-1130
A spectacular selection of hard to find perennials, ornamental grasses, shrubs, trees and vines for your garden.
BLUESTONE PERENNIALS
Offering a wide selection of bulbs, perennials, grasses, herbs trees and shrubs. Includes: achillea anthea, achillea fiesta, achillea froelich, achillea jungfrau, achillea moonshine, achillea terra cotta, achillea paprika.