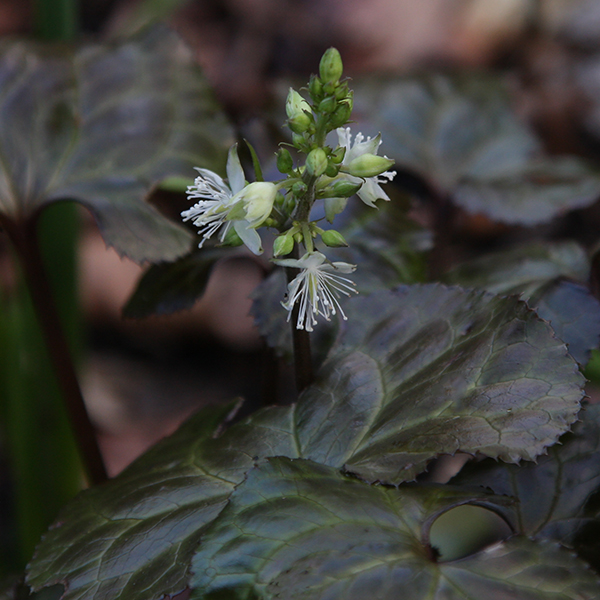 If you are looking for some of the best woodland foliage plants, then Beesia must be high on the list. And the two species that are at the top are Beesia deltophylla and Beesia calthifolia. Both are two wonderful plants for shade.
Member of the Saxifrage family, Beesia are one of those plants that gardeners who are 'in the know' love, and these interesting that these plants have been in cultivation for many years.
Discovered around the same time B. calthifolia has rather intricate heart shaped leaves, textured deep green and pronounced paler green around the veins. The edge of the leaf is finely serrated with many small teeth.
It is just a little bit sad that 'modern trends' in landscaping has led them to be a little neglected. As time goes on and we look for ground cover plants for shade, Beesia are being rediscovered, wonderful heart shaped leaves with some of the best foliage patterns you could wish for.
The great thing about Beesia is the foliage, however the flowers that rise above are tall and wispy. Funny to see that todays plant hunters needed to go back to Japan and China to 'rediscover' this useful plant.
Beesia is a clumping plant with attractive new purple growth, its is hardy and an excellent plant for shade. It will spread, but is not likely to self seed.
Care
It is in these areas where they grow in woodland situations, these are a very undemanding plant given the right conditions.
Humus rich moist soil.
Best in filtered sun to part shade
Prefers a cool to temperate to environment.
Requires a frost free environment
Hardy to Zone 6
Flowering time is mid summer
Can be overwintered indoors or try covering with light mulch in colder zones
Varieties
Beesia species include:
Beesia calthifolia (syn B.cordata)
Originally China and very common in the following and nearby provinces, Hunan, Sichuan, and Yunnan.
Beesia deltophylla
Originally from Burma, and a little less interesting although very similar to B. calthifolia and garden worthy in its own right.
Propagation
Easy by division of established clumps. Best divided in spring.
Beesia can also be propagated from seed, however fresh seed is easiest. Seed should be stratified for 3 months in a refrigerator before planting out in spring into trays.
Beesia are available fro sale from the following nurseries
---
SEQUIM RARE PLANTS 500 N. Sequim Ave. Sequim, WA 98382