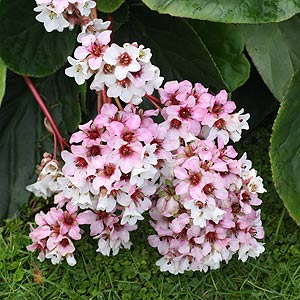 With large glossy green leaves, Bergenia also have attractive flowers that rise above the foliage in spring. these wonderful plants are anything but gray and dull.
The leaves are large, rounded and leathery, the plant is evergreen in most climates, although the foliage will turn to a greeny red to purple in cold winters.
Bergenia cordifolia and Bergenia crassifolia are both known as 'elephants ears'. Bergenia 'Bressingham White' and 'Bressingham Ruby' are popular cultivars as is 'Alpendglut'.
Landscaping Uses :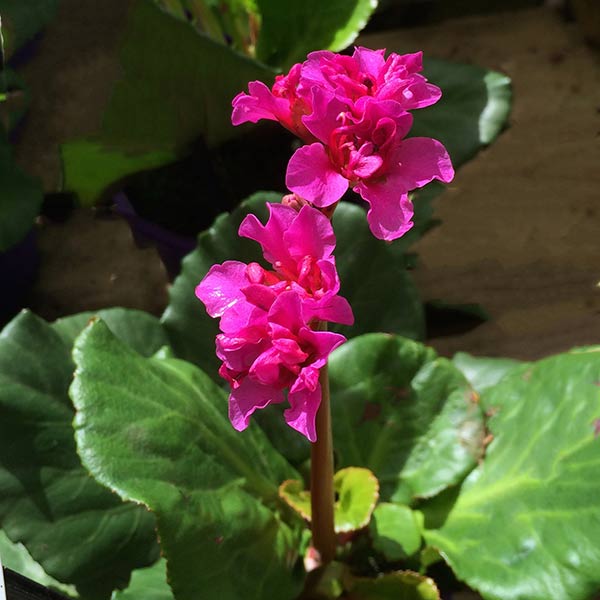 An excellent ground cover plant for areas of part shade, Bergenia are a group of perennials form the Himalayas. With large leaves and flowers that rise above in spring they offer not only colour, but also texture to the garden.
Care
The commonly grown most Bergenia species are a hardy plant and although it is often said to grow well in sun or shade it does do a little better with some protection from the hot afternoon sun in our climate.
Little pruning or care is required once established. A little compost spread around in autumn is great for growth. We like to use a little liquid seaweed fertilizer once or twice a year.
Best in Zone: 3 to 8, also known as 'Pigsqueak' as the leaves squeak when rubbed.
Bergenia Varieties
Bergenia are members of the Saxifrage family.
You could look for the giant, Bergenia ciliata, larger leaves and flowers (pictured) also known as the Fringed Bergenia.
More common are the B. ciliata x B. crassifolia hybrids. the 'Bressingham' cultivars are widely available.
Bergenia emeiensis with smoother foliage than others and a more dainty flower structure, creamy white rising above the foliage on wiry stems seems a little rare in cultivation.
Problems
Relatively disease and problem free although young plants need protection from slugs and snails.
Not Flowering
Some gardeners have reported problems with Bergenias not flowering and indeed they can be a little shy. Usual causes are :
To deep shade,
Older clumps may need division and rejuvenation.
Frost when flowers are forming is another issue
Propagation
Propagation is by digging and dividing established clumps.
Where to buy
---
SUNSHINE FARM and GARDENS phone/Fax 304-497-2208 Fax – 304-409-2698
HC 67 Box 539 B
BIG DIPPER FARM Phone 360.886.8133
26130 SE Green Valley Rd Black Diamond, WA 98010