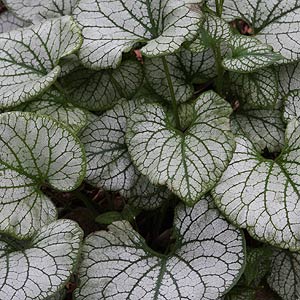 If we say a plant is called Brunnera macrophylla many gardeners would shake their heads. However if we say Brunnera 'Jack Frost', pictured right, then most will know exactly what we are talking about.
As with many plants it is the cultivars that are the most popular, and as many are improved forms, better flowers and foliage, then we can see why.
The species is Brunnera macrophylla or 'Siberian Bugloss' and is a popular ground cover plant grown both for the foliage and the attractive blue flowers that appear in spring. With new cultivars available for sale every year or two, a good selection is available.
Without doubt one of the best cultivars in recent years has been Brunnera Jack Frost (pictured right). Large heart shaped foliage, green with silver, makes a splash of light in a shaded position. However many others are well worth a place in the garden.
Brunnera flower in early spring, most varieties carry pale clear blue flowers held well above the foliage.
Care
Regarded as woodland plants all Brunnera macrophylla are easy care although all varieties do prefer shade, with variegated forms liking more shade than the others.
Best grown in a humus rich moist soil. Try planting in front of hellebores where the lower growing Crunnera foliage sets of the other plants well. Also works well when grown near hostas and ferns. We grow ours near a clivia patch, they get on very well.
Spent flower heads can be pruned away in early summer. Plants can be top dressed with a little mulch and well rotted animal manure in winter. water well with a good liquid seaweed fertilizer, an application of a slow release fertilizer in spring is also beneficial.
Varieties
Over recent years many new cultivars have been released including the very popular Brunnera Jack Frost, all require similar care.
Brunnera Jack Frost.
With its silver and green heart shaped leaves this is really one of the best variegated foliage plants for a shady position. Simple blue flowers in spring are an added attraction.
Hadspen Cream.
Another variegated form however this one with creamy leaf margins, again blue flowers.
Dawsons White.
striking foliage with a central nicely patterned green on each leaf and a very pale cream to white wide margin on every leaf as well.
Langtrees.
Green foliage with pale green to cream patterned markings in an almost symmetrical pattern.
Dianes Gold.
A vibrant golden lime green foliage.
Emerald Mist.
Large heart shaped leaves with a mid green interior and a silvery green pattern towards the margins.
Propagation
As most of the garden plants are hybrids or cultivars they are propagated by division.
The best time to divide clumps is in early spring after the frosts are gone.
Dig up the clump
Separate using a knife ensuring good root system for each division
Replant and water in with a liquid seaweed fertilizer.
Brunnera all do well in part shade and cope well with dry conditions beneath large trees or in a woodland garden.
Looking at Shade Loving Plants
Where to Buy
---
PINE KNOT FARMS – phone :434-252-1990 681
Rockchurch Road, Clarksville Virginia 23927 USA
Mailorder, retail and wholesale of our speciality, is hellebores. Open on site on Fridays and Saturdays in spring and fall where we offer a full range of herbaceous material.
www.pineknotfarms.com
SEQUIM RARE PLANTS
500 N. Sequim Ave. Sequim, WA 98382
Small mail order nursery with a very interesting range of perennials and other plants. Includes: Brunnera and many others
www.sequimrareplants.com
BALI-HAI MAIL ORDER NURSERY phone: 00442828885289
42, Largy Road city: Carnlough, Ballymena Co.Antrim postcode: BT44 0EZ
Hosta specialist with over 900+ varieties for sale. Agapanthus, Phormiums, Rhodohypoxis, Trilliums and many more cottage garden perennials shipping worldwide.
www.mailorderplants4me.com/