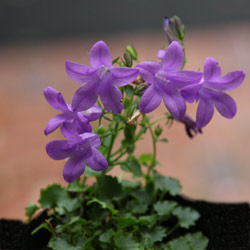 Campanula 'Birch Hybrid' (dwarf bellflower) is low growing evergreen campanula growing to only 18cm (6″) high.
Sometime referred to as the 'Siberian Bellflower' this is a plant that blooms profusely, and for such a small plant it offers value for money. The flowers are such a clear crisp lilac blue, small bells dancing on top of short stems, held above the foliage.
Flowering from spring through mid-summer and even into autumn you will fall in love with this reliable little plant.
Grow this in a sheltered part of the garden that you visit regularly. Next to a path as a little ground cover, or at the very front of the perennial border. Or try it in a container that you can place in a prominent position when Campanula 'Birch Hybrid' is in flower.
Care
Best suited for rockeries, planting in crevices or gaps in walls, containers or flowing over the garden edge. Full sun to part shade, a humus rich moist well drained soil.
Grows well in USDA Zones 4 – 7
Pruning
Campanula 'Birch Hybrid' (dwarf bellflower) can be pruned back gently after flowering to help maintain shape. Removal of spent flower heads will encourage a second flush of flowers.
This is a species that will spread by underground runners.
Varieties
Campanula Varieties
Summary Information
Botanical Name : Campanula 'Birch Hybrid'
Common Name : Dwarf bellflower
Family Name : Campanulacae
USDA Zone : 4 – 9
Flowers – Bell shaped Violet Coloured.
Flowering Season – Summer to Fall
Foliage – Evergreen and mid green in colour.
Height : 4 – 6 inches (.10 – 15 cm)
Spread : 8inches (10 cm)
Growth Rate : Medium to Fast
Soil : Humus rich, moist and well drained
Light : Medium to Light shade.
Humidity : Medium
Container Growing : Yes
Frost Tolerance : Light frosts only
Drought Tolerant : No