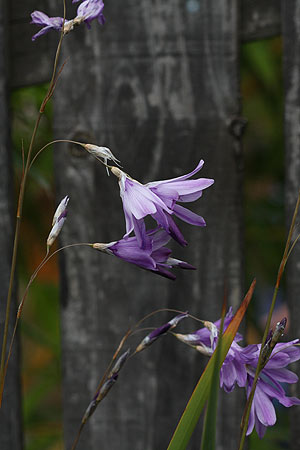 Dierama plants, species and cultivars are readily available for sale online, including plants such as Dierama pulcherrimum, reynoldsii and guinevere which are all clump forming perennials that grow from corms.
Originally from South Africa they are reasonably drought tolerant once established and require little care and attention. Grown for both the flowers which are pendulous and hence the name 'Fairy Fishing Rods' as well as the strap like green foliage.
Uses in landscaping include planting as clumps in the cottage garden, as a feature plant in a lawn or grown in containers. We think they work best in a mixed border or cottage garden.
Care
Plant in a sunny well drained position for best results. They are suited to zones 7 – 8 and will quickly form a clump.
Corms can be planted 3 inches deep and watered in well with a liquid seaweed fertiliser.
Although they like a sunny position they do not like dry soil, so dig in lots of compost before planting. On of the issues is that Dierama come from an area of summer rainfall, so some supplementary water may be required during dry periods.
In colder zones you could dig them and overwinter them in a position protected from freezes. They do require at least a dry well drained soil in winter.
Summary
Sunny position
Well drained humus rich soil
Water during dry summers
Keep dry over winter
Varieties
With may species and numerous cultivars it is good to look at some of the best in terms of cultivars, as well as the species to gain an understanding of height and color.
In terms of named cultivars look for :
The white flowering Dierama Guinevere is particularly attractive
The dark flowering cultivar Dierama 'blackbird', is a dramatic addition.
Dierama 'Slieve Donard Hybrids' in a range of colours from red through to pale pink.
Dierama 'Coral Belle' with good pink to coral pink flowers.
Dierama cosmos – Very Deep purple to nearly black flowers, a stunning plant.
The species
Dierama pulcherrimum – Commonly called the 'Angel's fishing rod', 'Fairies Fishing Rod' and also 'Wedding bells' reaching 4 – 5 ft in height.
Dierama pendulum – Commonly called the 'Hairbell' reaching up 6ft in height.
Dierama igneum – Commonly called the 'Angels Fishing Rod' reaching around 3ft in height.
Dierama argyreum – White flowers, to around 3 -4 ft in height.
Propagation
Easy by division of established clumps. In fact after 5 – 6 year clumps will need dividing in order to remain healthy.
Take care when digging to keep the root system intact.
Many gardeners are disappointed after transplanting as no or very few flowers will appear the first year. The second year they will bounce back.
Propagation From Seed
Propagation from seed is also possible.
Sow Dierama seeds on the surface and keep moist but well drained.
A light covering of fine grit will keep seeds in good contact with the soil.
Seeds can be sown in fall and placed in a cold frame to await germination in spring.
Germination is often slow and erratic.
Dierama are available for sale from the following growers
---
SEQUIM RARE PLANTS
500 N. Sequim Ave. Sequim, WA 98382
Small mail order nursery with a very interesting range of perennials and other plants.
Includes: Dierama and many others