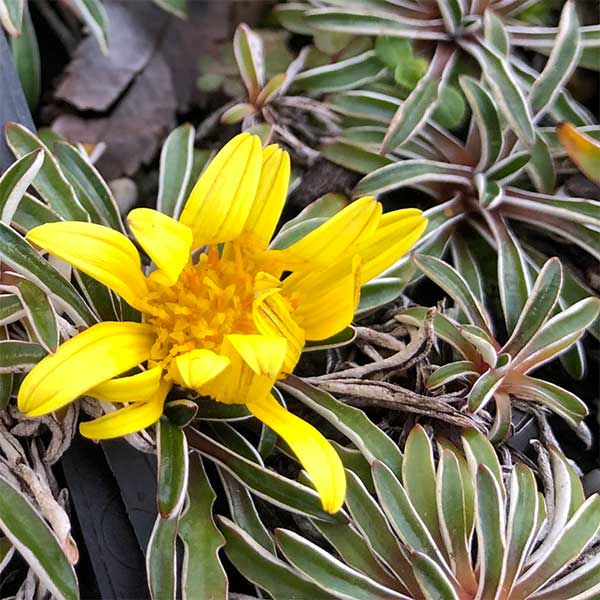 Dymondia margaretae is an excellent ground cover plant originally from South Africa. A member of the daisy family with attractive foliage and yellow daisy like flowers, this is perhaps the toughest of the genus.
A slow spreading low growing ground cover that is often called 'silver carpet', or 'carpet gazania', this is a plant that can handle foot traffic. It really is a 'ground hugging' plant reaching only a few inches high.
The foliage is a green blue / grey on top with silver undersides, the flowers appear from spring to summer, a bright sunny yellow.
As a landscaping plant use Dymondia margaretae as a low care ground cover, or between paving stones. It also grows well in a pot. Excellent in part shade beneath taller plants.
Care
Dymondia margaretae prefers full sun and is reasonably drought tolerant once established. It can be pruned back to make it a little more bushy, however its natural habit is slow growing.
After planting water well through the first summer, until established. Allow to dry out between waterings and ensure that drainage is good.
A general purpose slow release fertiliser in spring is usually sufficient.
The plant will send out runners, which will over time help it spread over a larger area. These can be removed to control the growth habit as required.
Summary
Family – Asteracae
Genus – Dymondia
Common Names – Silver Carpet, Carpet Gazania
Origin- South Africa
Culture – Easy care in a sunny position – well drained soil
Height – 2 inches
Width – 36 inches spreading by runners.
Landscaping Uses – Ground cover plant for dry conditions. Tough and hard wearing
Maintenance – Prune back to control runners
Pests and Diseases – Very Few.