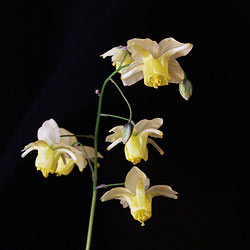 Epimedium versicolor 'Sulphureum' and 'Neosulphureum' are very similar and often confused, neosulphureum is said to flower a little later.
Epimedium versicolor 'Sulphureum' has attractive short-spurred yellow flowers in spring and will grow to 1 foot. Foliage is green an heart shaped turing red in winter.
Said to be a hybrid (E. grandiflorum and E. pinnatum) short-spurred Like many Epimediums this makes a great ground cover plant for shady areas Zone 5-9
Epimedium versicolor 'Sulphureum' Care
Try a humus rich soil that has some well rotted manure dug well in. Epimedium sulphureum will do well in poorer soils, but will do a lot better in a good soil. Dappled shade, or morning sun and afternoon shade is best.
Old foliage can be cut back in spring to tidy up the plant. Larger clumps can be divided in fall, or in early spring.