Epimedium versicolor 'Sulphureum' and 'Neosulphureum' are very similar and often confused, neosulphureum is said to flower a little later.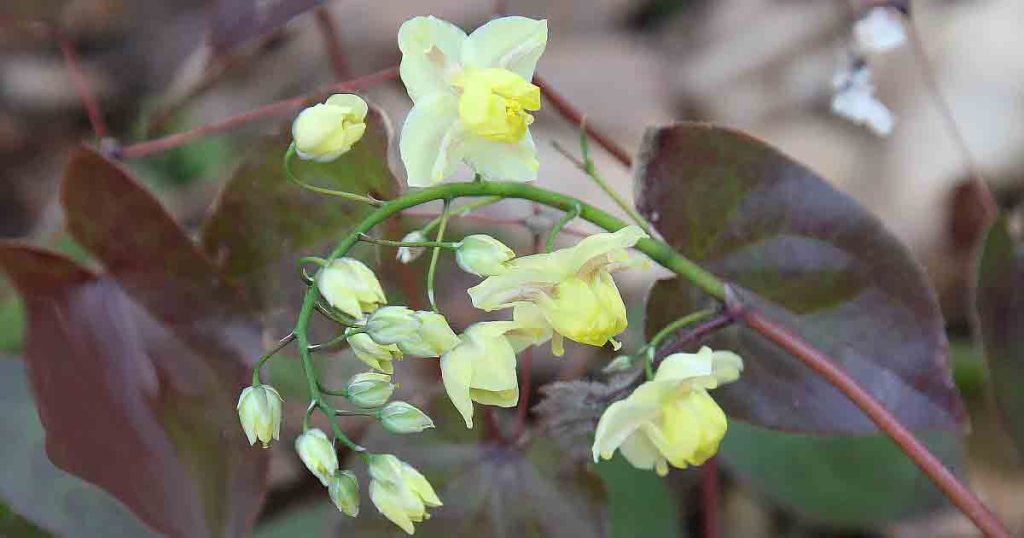 Epimedium versicolor 'Sulphureum' has attractive short-spurred yellow flowers in spring and will grow to 1 foot. Foliage is green an heart shaped turning red in winter.
Said to be a hybrid (E. grandiflorum and E. pinnatum) short-spurred Like many Epimediums this makes a great ground cover plant for shady areas Zone 5-9
This is a hybrid that is over 150 years old, so it has passed the test of time, being still regarded as one of the best of the Epimediums.
For an Epimedum species it is fast growing, and it makes a great ground cover plant. It works well in a woodland setting and can be grown with other shade loving plant s such as Brunnera Jack Frost.
How to Grow Epimedium × versicolor 'Sulphureum'
This is a long lived perennial plant. It grows well in areas of dry shade where other plants may struggle.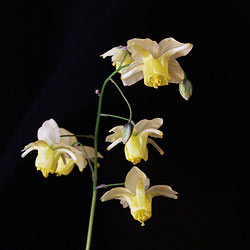 Try a humus rich soil that has some well rotted manure dug well in. Epimedium sulphureum will do well in poorer soils, but will do a lot better in a good soil. Dappled shade, or morning sun and afternoon shade is best.
Plant in a lightly shaped position.
Choose a humus rich well drained soil.
Water in with a liquid seaweed fertiliser.
Mulch around the plant to maintain a cool moist root run.
Water through the first summers.
Prune foliage back in winter to show off the the flowers and renew the foliage 
Pruning and Dividing
Old foliage can be cut back in late winter to spring to tidy up the plant. Larger clumps can be divided in fall, or in early spring.
Summary Details
Botanical Name – Epimedium × versicolor 'Sulphureum'
Common Names – Bicolor barrenwort.
Origin – Hybrid cross between E. grandiflorum and E. pinnatum subsp. colchicum.
USDA Zones 5 – 9
Height – To around 12 inches (30 cm)
Spread – To over 18 inches (45cm) plus as the rhizomes do spread underground over time.,
Position – Light to dappled shade.
Growth Rate – Slow to medium depending on soil and climate.
Soil – Well drained humus rich
Flowers – Sulphur yellow.
Flowering time – Late winter to spring.