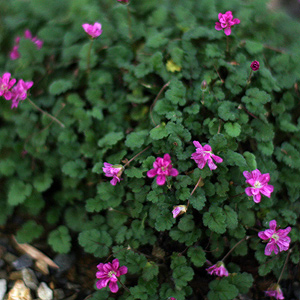 Also known as Storksbill and Cranesbill Erodium chamaedryoides is a very low growing ground cover plant, small pink flowers and attractive scalloped leaves.
The common name comes from its appearance, like a miniature cranesbill geranium.
Also known as the Carpet Flower Geranium.
Erodium chamaedryoides flore plena is a pink flowering variety – pictured right.
For some reason Erodium chamaedryoides flowers at strange times, the main flower flush is in spring to summer, however it will also flower in winter if it feels like it.
Care
These are a hardy plant that can withstand a cold winter, however not heavy frosts and freezes. They are slow growing, however will eventually spread to fill a small container, or cover a 1ft area.
A humus rich moist soil.
Good strong sunlight light – But not heat
Keep in a frost free position or grow in a container and over winter on sunny window sill.

Where to buy
---
SEQUIM RARE PLANTS
500 N. Sequim Ave. Sequim, WA 98382
Small mail order nursery with a very interesting range of perennials and other plants.
www.sequimrareplants.com