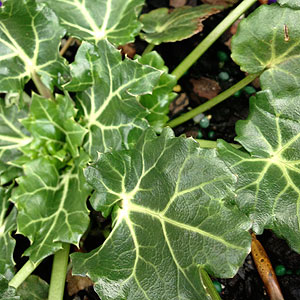 A wonderful colourful and textural addition to the garden border are Eryngium or 'Sea Holly'.
A number of species and cultivars are available for sale including the popular Eryngium Giganteum 'Miss Willmott's Ghost' with its white / grey flowers and the slightly smaller growing Eryngium x oliverianum with its steel blue flowers (height around 90cm).
The attractive blue flowers ( or white) are the main reason for growing this drought tolerant plant however the thistle like foliage is a great addition as well. Bees and birds love the flowers as well which appear in summer.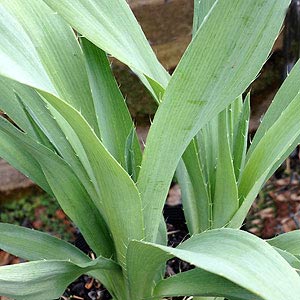 The foliage of Eryngium species does vary greatly, E. yuccifolium has broad pale blue/green upright foliage, (see image right) small spines on the edge.
E. varifolium (pictured above) has deep green heavily veined foliage, large and rounded with scalloped edges.
Care
All species require a sunny position and a well drained soil, they are not fussy about soil type as long as it drains well. Clumps can be divided in early spring. Best in zones 5 to 8
Eryngium varieties and species
Eryngium amethystinum Sapphire Blue – Sea Holly or Amethyst Sea Holly is a popular cultivar. A tall erect plant with fascinating 'metallic' steel blue flower heads in summer,
Eryngium amethystinum Sapphire Blue is a stunning clump forming perennial plant that grows best in a well drained soil in full sun.
Other Species include: Eryngium planum, eryngium yuccifolium, eryngium alpinum, eryngium giganteum, eryngium agavifolium, eryngium bourgatii and eryngium maritimum
Where to buy
SEQUIM RARE PLANTS
500 N. Sequim Ave. Sequim, WA 98382
Small mail order nursery with a very interesting range of perennials and other plants.
www.sequimrareplants.com