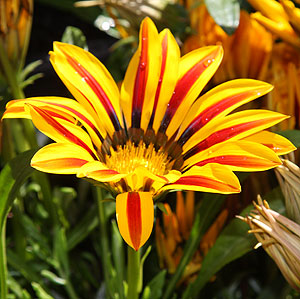 Gazania are a clumping perennial plant from South Africa used widely as a ground cover plant.
Daisy like flowers held above dark to mid green foliage give them the common name of African Daisy.
Lots of cultivars are available with wonderful colourful flowers.
Where Can You Grow Gazania?
In warmer areas (zones 9-11) they are treated as a perennial in cooler areas as an annual.
Grow then in containers in colder climates. sow the seeds as soon as it warms up in spring. Place the container in the sunniest position you can find.
You can also grow them in the perennial border as an edging plant. And they are regarded as being deer resistant.
Care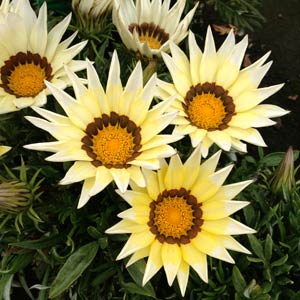 Flowering from summer through to fall Gazanias provide a carpet of colourful flowers, best planted in a sunny position in a well drained humus rich soil.
Gazania are drought tolerant and can tend to take over if not kept under control, they do not tolerate heavy frosts.
Full sun
Well drained soil
Pruning
Generally little pruning is required although some gardeners will deadhead after flowering to tidy up.
As clumps spread they can be pruned back to maintain size/
Varieties
It is really the different colors of the many hybrids that provide the variety in Gazanias offered for sale.
Some are lower growing than others and some have larger flowers.
All are popular perennial plants used widely in the garden border.
Gazania ringens are offered as seeds in a number of color combinations.
Propagation
You can collect seed and sow it into a cold frame in spring with good results.
Older clumps can also be divided in spring.