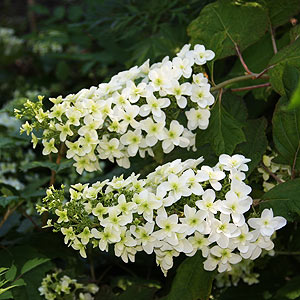 So well known and so popular that it is simply called Hydrangea 'Alice' this is a hydrangea that has a lot going for it. And that thing is the size of the flowers.
Individual flower heads can reach 12 – 14 inches long, which make this plant a magnificent sight when in full bloom.
This is a deciduous plant and is capable of reaching 12ft (3m) +, the flowers that emerge white a fade towards pink over time.
So it is established that Hydrangea quercifolia 'Alice' free flowering, is hardy and fast growing oakleaf hydrangea.
Just to add to the attraction, "Alice' also has excellent deep red to crimson purple foliage in fall, the large leaves add attraction through the season.
Summary
Large creamy white flowers.
Green foliage that had good red fall color
Can reach 12 ft
Better in sun than many other hydrangeas.
Care
Suited to USDA Zones 5 – 9, 'Alice' is easy care in the right position.
A humus rich deep soil with part shade will suit Hydrangea quercifolia 'Alice' well.
The degree of shade will depend on the climate zone with more sun in cooler areas. In general 5 hours of good morning sun seems to suit and then dappled shade.
Although Oakleaf hydrangeas do survive with less water and more sun than others, flower quality can suffer in dry hot conditions
Soil should be prepared with lots of well rotted compost and some aged manure being dug in well before planting. Water new plants in with a liquid seaweed fertiliser.
Pruning
Hydrangea quercifolia flowers from old wood, and 'Alice' is no exception. In general you could get away without pruning at all. However gardener do like to keep control. So if you must prune here is when and how.
Prune after flowering. This gives the plant a chance to grow new wood and set the flower buds for next season.
Alway prune back to a good healthy pair of buds.
If you can, prune the bush 1/3 at a time. So 1 in three stems each year.
You may also be interested in
Hydrangea quercifolia 'Alice'
Hydrangea quercifolia
Hydrangea aspera
Hydrangea Plants – General info and where to buy