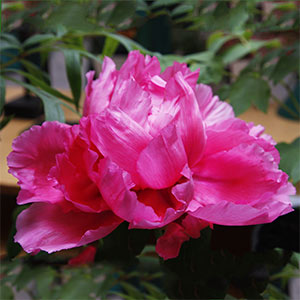 The difference between these two popular peonies is how they have been bred over 100s of years.
Chinese and Japanese growers have concentrated on different aspects of the flower.
So although they some from mostly the same species, the hybridisation has taken the two types in different directions.
The Japanese tree peonies are sought after for the large flowers, they flower in mid to late spring and have large deeply divided foliage.
Flower types are usually single of semi double and they are bred for flower size and color.
Japanese peonies are also bred to be more upright in habit, fewer side shoots and longer stemmed flowers.
Peonies are actually the national flower of China, they are said to symbolise nobility and beauty, especially female beauty.
So we can see why the Chinese breed them for flower form, rather than flower size.
The interesting fact is that no peonies are actually native to Japan, however they have been instrumental in breeding them for many years.
The Japanese also imported both and American and European hybrids as well, so a little confusion exists when it comes to names. For example the popular Alice Harding has the Japanese name of Kinko. Souvenir do Professuer Maxime Cornu is named Kinshi and L'Esperance is Kintei.
Varieties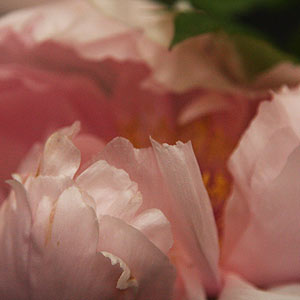 The tree peony Paeonia rockii 'hong lian' is a classic Chinese Tree Peony
Peony, Asahino-sora (pictured upper right) with its large flower and variegated stamens with its incurved petals and cup shaped flower originated in Japan in the 1940s.
Yachiyo Tsubaki (pictured right) is another Japanese variety with semi double pink flowers.
Shin-togan with its deepish purple flowers with deeper flares at the base of each petal flowers early, late winter and is another spectacular Japanese variety
You May also like
Herbaceous peonies
Peony tenuifolia
Peony obovata
Tree peonies
ITOH peonies
American lutea hybrid peonies