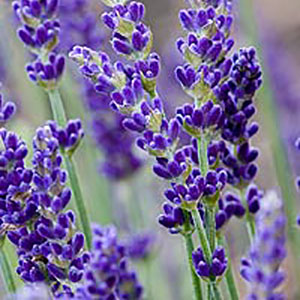 Lavender plants with great purple flowers are a popular garden plant with many varieties available for sale online from specialist nurseries.
Grown commercially both for its flowers and for Lavender Oil as well as a popular garden plant, Lavender has many uses in the garden.
Excellent for mass planting beneath ornamental trees such as cumquats, at home in a cottage garden and well suited to a informal hedge, Lavender has many uses in the garden.
Different varieties have a range of characteristics, flower color, fragrance, leaf form and flower form all differ. Lavandula stoechas with its 'butterfly like flowers' is pictured top.
The English laveder, Lavandula x angustifolia with its tall flower spikes is pictured below.
Care
Lavender is originally from areas around the Mediterranean, however it is tough adaptable and generally easy to grow in many climates.
Lavender will grow well in poor soils, although a little well rotted manure or compost dug well into, the soil will certainly help. Lavender prefers a sunny position and once established can be regarded as drought tolerant. Lavender does require a well drained soil.
Pruning
Pruning Lavender is simple, cut back after flowering, trim to new growth.
Tidy up lavender in spring, and in cold areas leave pruning until frosts have passed.
Some lavender is grown as a formal hedge, and is pruned accordingly, the sides and the top are clipped straight, usually in early spring just before the flower buds appear.
Other lavenders, those grown in a cottage garden or in the border are pruned back 1/3 to a ball shape, or low dome.
Never cut back into bare wood, always leave some leafy growth.
In colder zones, prune in spring
Remove dead wood or damaged growth at any time
A light prune after flowering will tidy the plant and promote bushy growth.
In spring, look for the small green shoots on the stems as a guide to how far you can cut back
Prune early in spring to maximize flowers.
Lavender Varieties
Lavandula x angustifolia
Lavandula x angustifolia are often called the 'English Lavender, however they are not native to the UK.
Widely grown for its tolerance of moisture as well a humidity this is a variety that grows well in full sun and a well drained soil. Although originally from a Mediterranean type climate Lavandula x angustifolia grows well in USDA zones 5 – 8
Varieties of L. x angustifolia include:
L. angustifolia vera, also known as 'true lavender'
L. x angustifolia "Imperial Gem"
L. x angustifolia "Hidcote"
L. x angustifolia "Croxtons Wild"
L. x angustifolia "Munstead"
L. x angustifolia 'Graves"
L. x angustifolia "Egerton Blue"
Augustifolia types are the only ones used in cooking, they have a lower camphoraceous content and are 'sweeter'.
Lavandula x intermedia
Lavandula x intermedia is natural hybrid of L. angustifolia and L. latifolia. These varieties grow a little taller than the English types and will tolerate hotter drier climates. They do not like wet winters, however grow well in USDA zones 6 – 8.
Varieties of L. x intermedia include:
L. x intermedia "Grosso" also known as Lavandin
L. x intermedia 'Provence' (Blue Lavandin)
L. x intermedia "Miss Donnington"
L. x intermedia "Abrialii"
L. x intermedia "Super"
L. x intermedia "Hidicote Giant"
L. x intermedia "Edelweiss" With white flowers.
L. x intermedia "Impress Purple"
This is the best lavender for fragrance for use in drawers etc as it has a high camphoraceous content
Lavandula dententa
Also known as French Lavender, less fragrant and used for flower arranging and display. Distinguished by the toothed leaves, hence the name. USDA zones 7 – 9.
Lavandula stoechus
Known as Spanish Lavender, very deep purple flowers, and bees love it. Will not stand cold weather and the flowers are shorter with interesting 'butterfly like' bracts on the top.
L.stoechus 'Ballerina'
L.stoechus 'Curly Top'
Lavandula multifida is another variety that is rarely seen, it needs heat, also known as the Fernleaf lavender. USDA zones 10 – 11
Other Uses for Lavender L. x angustifolia – used for culinary uses, pot pourri
L. x intermedia – used for Lavender sachets, heat bags, sleep pillows.
Lavender Propagation
The easiest form of propagation is from cuttings.
You may also like
agastache
salvia
achillea
dianthus
echinacea
sedum
phlox
Lavender Varieties are available for sale at the following nurseries
---
TUSCAN HEIGHTS Lavender Gardens, Gifts & Nursery – 530|472|3066
12757 Fern Road EAST – Box 206 Whitmore, CA 96096
Shasta County, CA
We currently grow nearly 200 different varieties of lavender and 150 varieties of herbs and edible flowers here at Tuscan Heights Lavender Gardens.
email: lavenderinfo@tuscanheights.net
ww.tuscanheights.net
DIGGING DOG NURSERY – phone (707) 937-1130
PO Box 471 Albion CA 95410
Includes: Lavandula x intermedia, & Lavandula angustifolia and others. and others.
www.diggingdog.com
BRAMBLE BANK GARDEN NURSERY – phone: 5418673846
5273 S.Coast Hwy South Beach Oregon postcode: 97366
Online store and catalog specialising in Lavender and Hebe and our favorite pest control products!
www.bramblebank.com