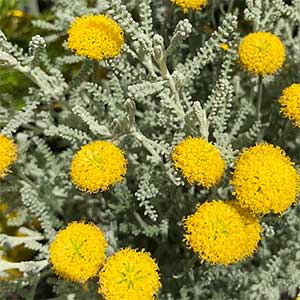 If you are looking for an easy care perennial for a sunny position then Santolina chamaecyparissus is one to consider. Attractive gray foliage and yellow flowers over a long period make it a must for the dry perennial border.
Santolina an make a great border plant, or even try in a low growing hedge, some varieties of Santolina chamaecyparissus are also suited to be grown in large pots.
Santolina cchamaecyparissusor cotton lavender is perhaps the most widely used of this group. Both as a feature plant, hedge or simply planted in the perennial border
This is a highly scented plant, drought tolerant has aromatic foliage and fine yellow button like flowers. Suitable for coastal areas.
Care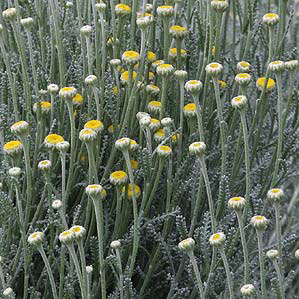 Santolina chamaecyperissus prefers a sunny position in a well drained position. Santolina can be clipped to shape after flowering to maintain shape.
Generally regarded as hardy to USDA Zone 6
Well drained soil
Full sun
Prune regularly to maintain a bush habit.
Pruning
The best time to prune is early in the season, immediately after flowering, this gives plants time to harden up a little before winter. In warmer climates you could prune them back in Fall.
Santolina chamaecyparissus Varieties
Santolina chamaecyparissus 'Nana'
Santolina chamaecyparissus 'Lemon queen'
Santolina chamaecyparissus 'Lemon fizz'
Other Santolina species include :
Santolina virens is the green Santolina and will grow to approx 1m.
Santolina rosmarinifolia is another green species while
Santolina adscensionis
Santolina africana
Santolina elegans
Santolina oblongifolia
Santolina viscosa.
Propagation
All are easy by division of established clumps in early spring as new growth commences. Or from semi ripe cuttings in late summer.
Where to buy
DIGGING DOG NURSERY – phone (707) 937-1130
PO Box 471 Albion CA 95410
Hard to find perennials, ornamental grasses, shrubs, trees and vines for your garden.