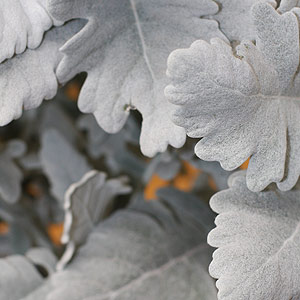 Senecio Cineraria or 'Dusty Miller' is a mound forming perennial plant and regarded as one of the best silver foliage plants.
The foliage of Senecio is so attractive that many gardeners actually remove the flowers as they appear so as not to detract from the wonderful textured foliage.
And 'Dusty Miller' is also loved for its versatility, it is a plant that looks wonderful with just about every other plant in the garden.
Grow it in the cottage garden, try it in a mass border planting as a feature edging plant, or even in a container in a small courtyard, 'Dusty Miller' just works well. And for added benefits the foliage can also be used in floral arrangements.
If you live in the warmer zones you will also be pleased to know that this is also a drought tolerant plant. About the only thing 'Dusty Miller' does not like is humidity.
Care
Growing to approx 12in (20-30cm) Senecio prefers a well drained soil and an annual top dressing of fertilizer or well rotted manure.
Watering is easy, simply give the plant a good soaking once a week, and always allow the soil to dry out between watering's.
Mulch around the plant to provide a cool root run and fertilize with an all purpose slow release fertilizer.
For those in the cooler zones, use a good liquid seaweed fertilizer when planting to encourage good root growth.
You can get the cuttings going indoors in late winter to early spring to give you a head start.
This plant is from the Mediterranean climate zone, so it is best suited as a perennial to USDA zones 9 – 10. However it is widely grown as an annual in USDA Zones 3 – 8. Best grown from rooted cuttings although you could try seeds.
Senecio Varieties
This is not the only garden worthy Senecio, you could also look for :
Senecio serpens
Senecio amaniensis
Senecio articularus
Pruning
If you are treating 'Dusty Miller' as a perennial, then prune it back fairly hard in early spring. Take it right back to 6 inches or so. You can do a little remedial pruning during summer, however not to much.
Sedum Plants are available for sale from the following nurseries.

CLASSY GROUNDCOVERS – tel: 88-404-4678
45 Wiley Rd Blairsville GA 30514
Evergreen flowering ground covers, grasses, vines, ivy, … Free Shipping of over 150 varieties of quality groundcovers.
www.classygroundcovers.com
PINE KNOT FARMS – 434-252-1990 phone 434-252-0768 fax
681 Rockchurch Road, Clarksville Virginia 23927 USA
Mailorder, retail and wholesale. Open on site on Fridays and Saturdays in spring and fall where we offer a full range of herbaceous material.
www.pineknotfarms.com