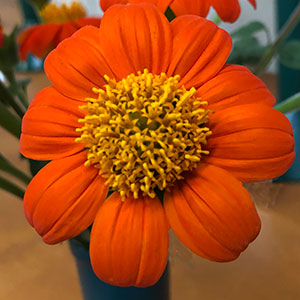 Best known as the Mexican Sunflower, Tithonia rotundifolia is one of this small genus that also includes species such as Tithonia diversifolia or tree marigold.
All Tithonia species are native to Mexico and are usually grown as an annual, planted in spring once the weather warms up.
They are fast growing and with the vivid flowers of many species make an excellent splash of color in the garden.
How to grow Tithonia
Tithonia are usually easy to grow from seed, and many varieties can be purchased on ebay.
Sow seed indoors in late winter to early spring.
As soon as the danger of frosts has passed, you can plant the seedlings out into the garden.
Best planted in full sun.
In warmer climates Zones 9 – 11 you can sow seeds directly into the garden in mid spring.
Water regularly with a liquid seaweed fertilizer for great results
Tithonia species
Tithonia diversifolia
This is the Mexican Sunflower, large orange to yellow flowers and will reach up to 9ft in height. It will grow easily from seed and can become a little weedy in warmer climates.
Tithonia fruticosa
Another tall growing species up to 9ft, yellow flowers.
Tithonia hondurensis
Rarely seen or offered
Tithonia koelzii
Rarely seen or offered
Tithonia longiradiata
Rarely seen or offered
Tithonia pedunculata
Rarely seen or offered
Tithonia rotundifolia
Also known as the Mexican Sunflower, deep orange to red flowers and a few named cultivars including 'Torch' are readily available
Tithonia thurberi
Rarely seen or offered
Tithonia tubaeformis
Rarely seen or offered
You may also be interested in :