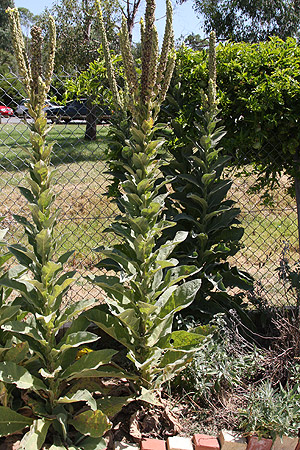 Verbascum is also known as Mullein. They make an interesting architectural showpiece in the garden with their upright stems and lovely flowers.
A variety of species are grown in the garden, some as perennials and some as annuals. The most common species is Verbascum thapus, which has tall yellow flower spikes.
However, it is the Verbascum phoeniceum hybrids that are making a name for Verbascum. These have a really good range of flower colors from white through to pink and deep purple. The V. phoeniceum hybrids perhaps offer the most color of all varieties of Verbascum on sale. They are also more compact so can be planted in the middle of the garden bed.
With tall flower spikes in spring to summer Verbascum cultivars such as Verbascum 'southern charm' are becoming increasingly popular in perennial borders and cottage gardens.
Care
Although these plants are short lived, they do happily self-seed. The seedlings that appear in spring can easily be dug and moved if you wish. They are best grown in full sun, although the smooth leafed varieties will grow in light to part shade.
The natural home is on dry rocky slopes. So this gives us a clue as to how hardy they are. They require very little water, and they will grow in poor soil, but not in boggy ground. They are best used as an addition to the cottage garden border.
Try Verbascum in a container where the tall flower spikes make a colorful display during the warmer months.
Popular species and cultivars include:
Verbascum thapsus.
Verbascum southern charm.
Verbascum phoeniceum.
Verbascum blattaria
Summary Information
Botanical Name: Verbascum
Common Name: Mullein
Family Name:  Scrophulariaceae
USDA Zone: 3 to 9
Height: 2 to 8 feet
Spread: 1.50 to 2.50 feet
Growth Rate: Medium to Fast
Soil: poor, well drained
Light: full sun to partial shade
Humidity: Medium
Container Growing: Yes
Frost Tolerance: good
Drought Tolerant: good