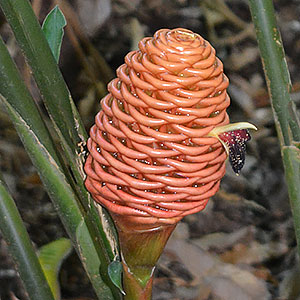 Zingiber or 'Gingers' are a genus contains the gingers of commerce, those used for culinary purposes (Zingiber officinale) and medicinal uses. However many of the species are also of ornamental use.
All are tropical to sub tropical plants by nature. Grown in warmer climates for both the foliage and thye highly ornamental flowers that appear summer.
If you are looking to create a 'Tropical Look' in your garden or courtyard then Zingebers could be the next plant for you.
Most are hardy from USDA Zones 8 – 11, although some will require extra protection in a cold winter.
Care

In the warmer Zones, grow then in the garden, light shade is best.
Humus rich moist soil.
Dappled shade.
In colder zones we suggest growing in containers and over wintering on a warm patio.
Varieties
Ornamental Gingers include
Zingeber zerumbet or pinecone ginger (shampoo ginger) is originally from Indonesia and is grown as an ornamental plant.
Zingiber cassumunar, also is used for medicinal purposes.
Zingiber spectabile does well in a large container or pot.
Zingiber mioga or Myoga Ginger is a native of Japan.
Zingiber aromaticum also known as 'Puyang'
Zingiber Malaysianum Black Ginger or 'Midnight Ginger' with its dark foliage and yellow basal cones (they appear from the ground) that change to pink over time will reach over 7ft in ideal conditions. A tropical to sub tropical plant originally from Malaysia Black Ginger or 'Midnight Ginger' requires a humus rich moist but well drained soil and does well in a semi shaded position, an outstanding plant when in bloom. In cooler climates it will die back in winter, in cold climates it may struggle to survive.
Zingiber zerumbut darceyi has bold variegated foliage and is also referred to as the 'shampoo ginger' as is Zingiber collinsii,
Others include: Zingiber Neglectum or Jewel Pagoda, Zingiber ottensii, Zingiber parishii and Zingiber rubens or 'Bengal Ginger'