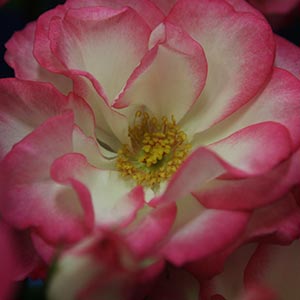 Floribunda roses are a cross between Polyantha roses and Hybrid tea roses, sometimes called cluster roses, the flowers are a little smaller than those of the hybrid teas roses, but there are lots of them.
Generally these are smaller growing roses than Hybrid Tea Roses. They are well suited mass planting along paths and driveways as well as growing well in pots or containers.
Regarded as a hardy rose for USDA zones 4 – 9.
The meaning of Floribunda is 'flowers abundantly' and with an almost constant show-off flowers from spring to summer they live up to the name.
Flowers form in large clusters as well as single blooms Floribunda roses generally have a more open flower form than hybrid tea roses.
Perhaps the best know of all Floribunda Roses is 'Iceberg' which is also available as a climbing rose.
Basic Care of Floribunda Roses
Choose a sunny position for planting.
Prepare the soil well digging well rotted compost and aged manure.
Fertilise each spring, and again in with a specialist rose fertiliser or organic fertiliser.
Water deeply during long dry spells in summer.
Mulch around the plant to maintain a cool root run.
Prune in early spring.
Uses
In landscaping Floribunda roses can be used for mass planting.
Floribunda Roses really are a multipurpose rose, they look good in formal rows, grow well in pots or containers and in mass plantings in parks or gardens look magnificent.
Although we use the term 'Floribunda' for the group, they can actually be divided into a number of varieties.
Shrub types, large and spreading
Bush types, smaller and compact.
Ground-cover types, low growing.
Climbing types
Landscaping types, larger growing and used in mass plantings.
7 of the Best Floribunda roses.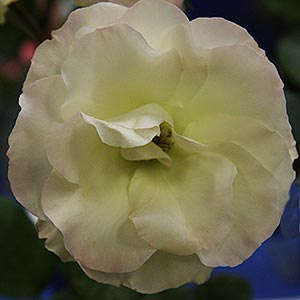 The well known 'Iceberg' is certainly the best known by name, and most widely planted of all Floribunda Roses.
If you are looking for something a little more fragrant in a white floribunda try Bolero Rose.
Playboy is a lovely orange flowering rose while
Ebb Tide is a deep purple rose.
Seduction is another great rose. (pictured right) With its clear yellow flowers tinged with pink is another excellent example.
Gruss An Aachen is a pink flowering Antique Floribunda Rose developed nearly 100 years ago.
Gold Badge (or Gold Bunny) is a great yellow flowering Floribunda, (picture below)