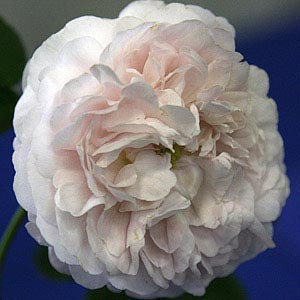 The Gallica Roses are one of the oldest garden rose varieties, with R.gallica 'Officinalis' being the oldest known.
Also known as the 'Apothecary's Rose' it is still in cultivation and was in fact the 'Red Rose of Lancaster'.
Another very old variety is R.gallica 'Versicolor' also sold as R.mundi, supposedly named after Rosamund Clifford, the mistress of Henry 11 'Fair Rosemund'. Henry was forced to marry Eleanor of Aquitane who had previously been married to Louis VII of France, many old roses have stories attached
Description of Gallica Roses
These are not a repeat flowering type, although they will flower over a long period, many up to 6 – 8 weeks. With so much variation it is a little difficult to generalise in growth habit, however the following characteristics best describe them
A short strong bush type.
An open flower.
Not overly thorny
Color range is in the reds, but from pale pink through to deep crimson.
Generally very fragrant.
Suckering habit if grown on their own rootstock.
They tolerate poor soils
Cold hardy, in fact they like cold winter to flower well.
Good disease resistance
Best Gallica Roses
Some of the best Gallica roses include :
Gloire de France – Masses of double flowers with slightly darker centres
Charles de Mills – Large purple flowers and excellent in cooler climates, not so good in warmer areas.
Belle Isis – Clean pale pink, double and quartered flowers
Ypsilanti – Also sold as Ipsilante, very fragrant, late flowering mid pink large doubled flowers
Sissinghurst Castle – another old variety, deep velvety red flowers
Duchess de Montebello -Pale pink with strong fragrance – Pictured Top.
R. gallica violacea. 'La Belle Sultane' – Wonderful rich velvet purple flowers, classed as a single however it has a few more petals than most singles. Contrasting yellow stamens on these good sized flowers, supposedly one of the roses in Empress Josephines garden.
L'Enchanteresse – Wonderful fragrance white to blush pink fully double flowers.
Tricolore de Flandre – semi double white flowers striped with crimson and lilac.
Pruning Gallica Roses
As they tend to sucker, if they are grown on their own roots pruning Gallicas can look a little daunting. You are faced with a mass of stems.
Be methodical.

Start by removing 1/3 of the oldest canes.
Prune back the previous years flowering stems to lower laterals
The modern hybrid Gallicas are often grafted onto non – suckering rootstock. So pruning becomes much easier.