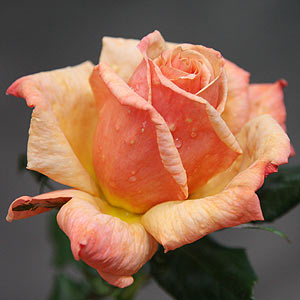 Remember Me (Cocdestin) is a classic hybrid tea rose, very hardy, and with nice foliage as well its classic copper/orange double flower. Its disease resistant and has a soft fragrance.
A great rose for cut flowers and a good choice for a memorial garden or as a remembrance rose. It does have its fair share of thorns, but really it is a beautiful hardy rose. (See picture right, taken very late in the season and still producing plenty of excellent flowers)
This rose was bred by Cocker Roses in Aberdeen Scotland in 1984 and has won numerous awards. Usually available as a standard rose as well.
Care and Growing Conditions
Remember Me (Cocdestin) is a fairly compact growing rose reaching around 1m, best planted in full sun (like most roses) we suggest digging in some well rotted compost and manure 4 – 5 weeks before planting.
This gives the compost time to blend with the soil and settle which helps prevent slumping. Roses like a moist but well drained position, so in wet areas consider planting on a mound, or improving drainage. Pruning for Remember Me is the same as other roses.
Generally available for sale at good garden centers in spring, or online as a bare root plant from fall through winter.
Summary
Full Sun
Humus Rich Soil
Slow release organic type fertiliser in spring
Pruning
You can prune after flowering to maintain shape, you can also prune hard in early spring or winter to promote new growth and lots more of those wonderful thorns.
Remove some of the older canes each year once established as needed.
You may also be interested in