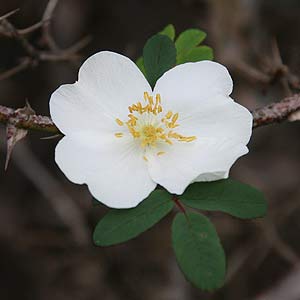 A fascinating rose with some interesting characteristics, Rosa sericea pteracantha is grown for both the thorns and the flowers.
Also known as the 'Winged Thorn Rose' and 'Red Winged Rose', the full name is Rosa sericea subsp. omeiensis f. pteracantha.
The first thing that strikes you are the thorns, particularly the new growth.
Brilliant red large thorns and on arching canes, this rose is sometimes called the 'winged rose' and the large flat thorns are wide and winged.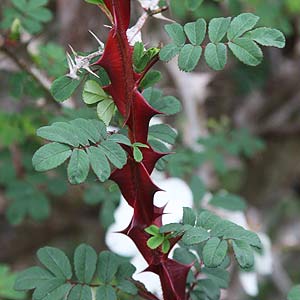 Another feature is the fact that this is a rose with only four petals, most unusual in a rose. Single clear white flowers are attractive, however the rose is grown for the thorns, in the mooring or afternoon when the sun is low in the sky they look almost translucent.
The flowers have a slight fragrance and are followed by red hips in the autumn.
Origin and landscaping uses
We believe the species is originally from China and was 'rediscovered' in Europe some years ago.
In the garden this is a rose that can be used as a feature in the lawn, or grown towards the front of they garden border where those thorns can be shown off.
Best planted in a position where it receives good light, and best away from play areas as the thorns are very prickly.
This is a large growing rose that will reach 6ft in height and will spread to form a clump. Give it space and it will reward you.
Care
Like most roses, Rosa sericea pteracantha is very hardy and require little care.
Once established it is fairly drought tolerant and will grow well in USDA zones 5 – 9.
A well drained humus rich soil and a sunny open position suit best.
Summary
Full Sun
Humus Rich Soil
Slow release organic type fertiliser in spring
Propagation
Cuttings taken after flowering in spring, or hardwood cuttings in autumn. You can also divide this suckering shrub during dormancy.
Pruning
You can prune after flowering to maintain shape, you can also prune hard in early spring or winter to promote new growth and lots more of those wonderful thorns.
We suggest minimal pruning as the plant does have an attractive growth habit, a vase shape.
Remove some of the older canes each year once established as needed.